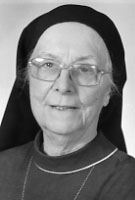 Sister Mary DeRicci Cain, MM
Born: January 10, 1904
Entered: September 23, 1923
Died: February 24, 1987
On February 24, 1987 at 11:00 A.M. with several of the Sisters sharing the moment with her, Sister Mary de Ricci Cain quietly and peacefully made the final passage from life to LIFE.
Sister Mary de Ricci Cain (Mary) was born January 10, 1904, the fourth of six children born to James and Margaret Anastasia Donahoe Cain in New Perth Prince Edward Island, Canada. The other five were named Catherine, James, Frank, William and Robert. All her life Sister had strong ties with her home and her family as they spread throughout Canada and the United States.
On September 23, 1923, Mary Cain entered Maryknoll and made her first profession on April 30, 1926. After completing her B.A. in Mount St. Vincent's College, Sister de Ricci was assigned to the South China Region, arriving in Hong Kong the summer of 1927. From 1927-1942 she taught and was Principal at Holy Spirit School, Caine Road, Maryknoll Convent School and Maryknoll Sisters' School (now Marymount School). In January, 1942, Sister De Ricci was interned in Stanley and along with several other Sisters was released in June of the same year. After their release they made their way into China and she later went on to India where she taught in Simla with the Loreto Sisters. Sister returned to Hong Kong in January, 1946,
Teaching was ever a part of her life and she continued in full time teaching until 1969. Even in semi-retirement she devoted much of her time to education.
In August, 1977, Sister moved to Our Lady of Maryknoll Hospital Convent and worked part-time in Medical Records and the Hospital Library. In the fall of 1985, she retuned to the Boundary Street Convent. After hospitalization, it became apparent that she required a place where she could receive more concentrated care and attention. She then moved into the convent which is attached to a home for the elderly in Yuen Long. sister was quickly accepted and loved by the elderly in the home and shared their life as much as her health permitted.
She was hospitalized again in August.  In December, she made her annual retreat at the Sisters of St. Paul de Chartres Novitiate in Sheung Shui. It was a beautiful time of reflection and sharing, and she seemed much at peace. On Tuesday, December 16th, she was hospitalized again and her health really began to deteriorate and God called her to his own.
This is a short summary of the events in her life. Enfleshment comes from the memories and stories we share with each other and the influence she had on our lives. We welcome you all today to the Liturgy for Sister.
We welcome Father Gene Thalman, M.M. as the principal celebrant of our Eucharist of remembrance and thanksgiving. Sister Mary de Ricci will be laid to rest in St. Michael's Catholic Cemetery, Happy Valley, Hong Kong.