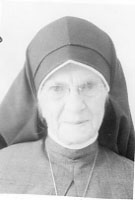 Sister Mary Dominica Gallagher, MM
Born: May 30, 1894
Entered: June 7, 1923
Died: September 17, 1980
Sister Mary Dominica Gallagher died on September 17, 1980, after many years of illness.
Rose Mary Gallagher was born on May 30, 1894, in Freeland, Pennsylvania, the daughter of Dominick Gallagher and Rose Kelly.
Rose Mary attended school in Freeland and later graduated as a nurse from the Germantown Dispensary in Philadelphia. Responding to her missionary vocation, she entered Maryknoll at the Venard in 1923, and received the religious name Sister Mary Dominica.
After First Profession, Sister Dominica spent a brief time at our Japanese Mission in Los Angeles and then was assigned to Manila where she served in St. Paul's Hospital. In 1932 Sister Dominica was among the first group assigned to form the Maryknoll Cloister. Sister Dominica was a vital part of the Cloister's beginning.
The pattern of her early life is that of one searching and this is reflected in her mission assignments. Following her year at the Cloister, Sister Dominica served in several of our houses. From 1946 until 1970 she was on the West Coast in Mountain View, Guadalupe, Stockton and later Monrovia, where she served as a nurse and then became a patient. Sister Dominica's health failed in the late 1960s, and in 1970 she was transferred from Monrovia to Bethany. In 1978 she was among those who moved to the Maryknoll Nursing Home.
Sister Dominica had been a patient in Phelps Hospital for about a week. When her condition did not improve, the plan was for her to come from the hospital to the Nursing Home on Wednesday, the day of her death. Sister Dominica wanted very much to leave the hospital and come home to Maryknoll. Indeed, now she is home, with the Lord whom she awaited with a peace and serenity that were apparent to all of us who spent time with her.
Those who knew Sister Dominica in her more active years knew her as gracious, generous and prayerful, an excellent nurse who was wise and had very practical judgment.
Sister Dominica wrote of herself from Monrovia in 1968, "I love Maryknoll, my vocation and my work. I only wish I could be rejuvenated and young enough to start over again."
I knew Sister Dominica only in these last few years. I felt very gifted by her smile and her gratitude and all that these communicated. As I learned of all the places Sister Dominica had lived and the different ways she had ministered and served, I reflected that probably she experienced deeply what Augustine articulated so well – "Our hearts were made for you Oh Lord and they are restless until they rest in you." I think that the serenity of her last years was the serenity of a pilgrim nearing home and now she is home. Let us thank God.
The life and death of each one of us is a gift and a call to all. Today we remember Sister Dominica, whose life was long and who awaited death expectantly. A few weeks ago we were drawn together in the death of Sister Carol Piette whose death was so sudden and unexpected, to our way of thinking. Each of these women lived in the shadow of death as do we all. The paradox is that we also walk in the light. We are united in our faith and trust that "life is not simply life but is one fiber with death and a fabric of human experience. Death is known only to that which lives and life is grasped only by reaching deeply into dying. Life is Paschal mystery. We believe that Jesus is the first to rise because he is the first who ever really dared to live His death." (Maryknoll Sisters in Mission)
Let us celebrate this mystery of our faith. Our thoughts and prayers go to Sister Dominica's family and friends.