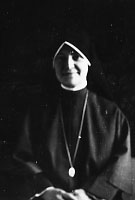 Sister Mary Dorothea Smith, MM
Born: April 8, 1902
Entered: February 10, 1921
Died: November 6, 1965
Sister Mary Dorothea (Victoria Anna Smith) was born at Tiffin, Ohio, April 8, 1902. Hers was a large and happy family, of thirteen children, of whom ten brothers and sisters are living. Among them is Father Louis A. Smith, M.M., stationed in Cincinnati, and one religious a Sister of Mercy. Sister had deep family ties and was radiantly happy on the occasions of visits of one or other of her brothers or sisters.
Sister entered Maryknoll February 10, 1921 and was Professed, April 9, 1923. Sister's first mission assignment was to our school in Los Angeles from 1923 to 1930. The next five years was devoted to teaching in our schools in Hawaii.
In 1935 Sister returned to Maryknoll and worked in the Field Afar Office for several years and later in our sewing room at the Motherhouse and St. Teresa's.
Sister's hobby was gardening and her motive for hard work over her flowers was to keep the shrines at St. Teresa's lovely. She probably hated to see winter come for there would be no flowers to gather on her early morning walk.
Sister Mary Dorothea's brother, Father Smith will be here for the funeral. The Requiem Mass will be on Monday. Sister will be "waked" at St. Teresa's, in the midst of her Maryknoll family.
May our suffrages help to obtain for Sister Mary Dorothea a speedy attainment of the Beatific Vision.