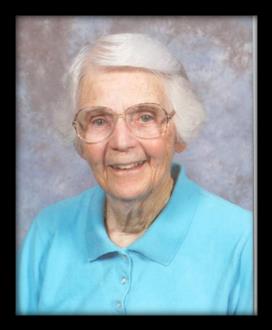 Sister Mary Driscoll, MM
Born: July 26, 1923
Entered: September 7, 1943
Died: October 2, 2013
Sister Mary Elizabeth Driscoll peacefully entered her New Life with God on October 2, 2013. Mary was 90 years old and a Maryknoll Sister for 70 years.
Mary was born on July 26, 1923, in Portland, Oregon, to Elcena Greene Driscoll and William E. Driscoll. Her parents, a brother (William) and two sisters (Anne and Suzanne) have predeceased her. She is survived by her sister, Carolyn Neely.
Mary graduated from St. Mary's Academy in Portland, Oregon, in 1941 and attended Maryhurst College in Oregon the following year. She entered Maryknoll on September 7, 1943 from All Saints Parish in Portland. At her Reception, Mary received the religious name of Sister Mary Edmund Damien. She made her first Profession of Vows on March 7, 1946 at the Maryknoll Sisters Center in Ossining, NY and her Final Vows on March 7, 1949 in Hawaii. In 1955 Mary received her Bachelor of Education degree from Maryknoll Teachers College, NY. In 1964 she received an M.A. in Theology at Providence College in Rhode Island. From 1969 -1979 she attended the University of Pacific Coast in California and became certified to teach EMR students and Learning Disabled children.
Sister Mary's first mission assignment was to Hawaii in 1946 where she began her ministry as teacher, which was to be her major ministry throughout her life. From 1946-48 she taught seventh graders at St. Anthony School in Wailuku, Maui, and then from 1948-54 she taught first and second graders at Maryknoll School in Punahou, Oahu. Mary is remembered as an enthusiastic teacher who worked well with the parents of her students and encouraged them to take part in student activities, especially field trips. In 1955, Mary went to New York City and taught second grade for three years at Transfiguration School in Manhattan's Chinatown.
In 1958, Mary was assigned to the Maryknoll Sisters Novitiate at Maryknoll, NY as Assistant to the Novice Mistress and in 1961 as Postulant Mistress. In 1964 she was named the Novice Mistress at the Novitiate in Topsfield, MA where she remained in this position until the Topsfield Novitiate closed in 1968. Mary is well remembered as a warm and loving person by the many women who entered Maryknoll during her ten years directing the Novitiate. Those years were difficult years because of tremendous change in society, in the Church, in religious life and in Maryknoll. Mary was open to the changes and this was reflected in her direction of the Novitiate. As one Sister has written, "The early 60's were unsettling times for many of us but Mary was always such a down to earth, stable presence – a real anchor in the storm. She was a woman of deep prayer and taught me how to pray – especially how to love Scripture." Mary's legacy lives on in the many Sisters and women who so generously carry the love of God and the Maryknoll spirit to others as a result of their contact with her.
Assigned to Stockton, CA in the Western U.S. Region in 1968, Mary lived with Sr. Mary Xavier O'Donnell. They invited Dr. Janet MacLean, who had taught music at the Topsfield Novitiate and had become a good friend of Mary, to form community with them. With her training in special education, Mary taught upper elementary EMR students at El Portal School. She received the Outstanding Teacher Award for "exemplary teaching and dedication to school and community." The Superintendent of Schools added: "Sr. Mary Driscoll has brought to the classroom a compassion and understanding spirit that immediately says to the child, 'I care about you.'" Mary, who was an accomplished cellist, played one year with the Stockton Symphony Orchestra.
Although Mary had frequently expressed the desire to do inner city work, her desire was not realized until 1981 when she and Janet moved to Bardstown, KY. Mary joined the Eastern U.S. Region in 1982. For eight years Mary commuted to Louisville, KY and did social work with the Sisters of Charity of Nazareth at the Sister Visitor Center. Her ministry included emergency food, some financial help to the poor, home visiting, and work with the elderly. Mary also played a prominent role in a local community group protesting energy rates.
In 1989, Mary left the work in Louisville and concentrated her work in Bardstown teaching at the Creative Education Center (C.E.C.) which Janet had established to serve children who needed specialized education programs, including: very bright students, students with low self-esteem, students who needed programs to assist them in learning. Mary was given the C.E.C.'s Teacher of the Year Award in 1997. She also volunteered with NELCASA, an agency that finds volunteers to stand up in court as advocates for abused or neglected children. Mary became a member of the NELCASA Board and later the Board President. For many years, even after she needed to use a wheelchair, Mary was faithful in participating in the demonstrations to close the SOA (School of the Americas) in Fort Benning, GA. From 2006-2009 Mary did pastoral work in a Bardstown parish and continued tutoring while caring for Janet during Janet's terminal illness.
In her 27 years as a member of the Eastern U.S. Region, Mary is remembered as living the Maryknoll spirit of dedication and service to all. She took an active role in the Region and served several years on the Regional Governing Board. Mary's deep spirituality and wisdom were recognized as enriching all.
In 2009 Mary joined the Chi Rho retirement community at Maryknoll Sisters Center and volunteered as a tutor at the nearby Brookside Elementary School. From 2010 to 2013 she retired to the Sisters' residence in Monrovia, CA where she continued tutoring, before returning to the Maryknoll Sisters Center at Maryknoll, NY on August 1, 2013.
Mary was ever faithful to her Prayer Ministry which was the Congregational Leadership Team and the Palestinians.
Let us now celebrate the life and friendship of Sister Mary in this Mass of Christian Burial.
We welcome Father Leslie Blowers, our brother in Maryknoll, who will preside at this liturgy.