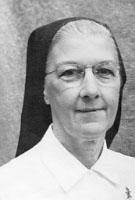 Sister Mary Elizabeth Fortin, MM
Born: May 29, 1917
Entered: September 7, 1943
Died: August 18, 2013
We gather today to remember and to celebrate the life of our Sister Mary Elizabeth Fortin, who died on August 18, 2013, at 5:35 p.m. surrounded by the loving prayers of her Maryknoll Sisters and in Hospice Care at Phelps Memorial Hospital.  Sr. Mary Elizabeth was 96 years of age and had been a Maryknoll Sister for almost 70 years.  Known for always being willing to try something new, Sr. Mary Elizabeth is now, in her own quiet way, rejoicing in her new life with God. 
Mary Elizabeth Fortin was born on May 29, 1917, in Hartford, Connecticut, to John J. Fortin and Florence Ruth Moren Fortin.  One of five children, Mary Elizabeth was raised in St. Lawrence O'Toole Parish, in Hartford.  In 1934, she graduated from Bulkeley High School, in Hartford and earned her B.A. in Mathematics from St. Joseph's College, West Hartford, in 1938.  On September 7, 1943, Mary Elizabeth entered the Maryknoll Sisters.  She received the religious name of Sr. Anne Marie.  Sister Anne Marie made her First Profession on March 7, 1946, and Final Vows on March 7, 1949, in the Philippines.
Sr. Mary Elizabeth's first assignment in 1946 was to the Philippines where she taught religion, English and mathematics to high school students at Maryknoll College, Manila, until 1958 and served as high school principal from 1958-1961 in Jimenez College. During that time, in 1957, Mary Elizabeth finished an M.A. in Education from Ateneo University in Quezon City, Philippines.
Throughout her long time at Maryknoll College, Sr. Mary Elizabeth was known among her Sisters as an "unusually capable woman." She was a gifted and dedicated teacher, a good seamstress and admired for her singing voice and her ability to bake gingerbread.  Among her students she is remembered as being "strict in the standard she required of her students, all with the intention of bringing each one to a potential not yet realized…a good teacher that imparts critical thinking, belief in oneself, discipline in staying with the challenge."  Mary Elizabeth could also be relaxed with her students, showing a loving heart and a readiness to assist each one as they expressed their felt needs to her.  Some became her friends as adults and remember her with great respect for her dedicated teaching and with deep fondness for her love for her students.
In 1961, she was appointed Director of Misamis Occidental School in Jimenez, where she taught college level religion to teachers-in-training, until 1966. Moving from the big city of Manila to the poor, rural area of Jimenez in Mindanao was a big adjustment that demanded a great deal of flexibility and adaptability in Mary Elizabeth. As Director, she let the other Sisters do their jobs showing respect for and trust in their abilities.
In 1967, Mary Elizabeth was assigned to Hong Kong where she taught bookkeeping and English at Maryknoll Sisters Secondary School. Missing the Philippines greatly, she requested a return to Manila and Maryknoll College in 1968, where she taught high school English for the next two years. In 1970, she became principal and mathematics teacher at Maryknoll High School, Pakil, Laguna, Philippines, serving there until 1973.  Following four years as principal and English teacher at Maryknoll High School, Cateel, Philippines, Mary Elizabeth moved to Davao City, where she taught theology at San Pedro Hospital School of Nursing from 1977-79.  She then joined the counseling office at Ateneo Medical School, serving there until 1981.
From 1979-84, Mary Elizabeth also worked as liaison in a program offering corrective surgery for crippled children at Davao Doctor's Hospital, and from 1981-82, worked with the Maryknoll Fathers' Funding Program in Davao. Beginning in 1985 and ending in 1989, she was coordinator of a parish health program in Upi, Mindanao, Philippines. Mary Elizabeth referred to her other part-time work as "the ministry at the front door."  There were many visitors who came to ask for help in times of crisis and sometimes the help was just to listen.  Describing that experience of meaningful ministry in Upi, she said "All and all, I find in my present ministries abundant opportunity to see and serve our Lord in others, to be inspired by their faith and patience in poverty and adversity and to hope and work for a larger share of God's good gifts even in this life for all."
Mary Elizabeth made a big move from her beloved teaching ministry in the Philippines to a whole new experience of language and culture in Central America.  After Spanish studies in Bolivia, Sister Mary Elizabeth began her ministry in El Salvador working in local parishes in Santa Cruz, Analquite and Cuscatlan from 1993-1996, and Prados de Venecia from 1996-1998. She then returned to the United States in 1999, volunteering as an English literacy teacher in Waterbury, CT, from 1999-2002, then serving at a local parish in Arlington, VA, in 2003, until retiring in 2004 at the Center.  In 2007 in response to increasing health care needs, Mary Elizabeth was assigned to the Eden Community and lived in Home Care 3 until her death.  During this time, Mary Elizabeth's prayer ministry was the work of the Congregational Personnel Coordinators.
Mary Elizabeth was deeply appreciated as an excellent educator and for her ability to inspire youth to academic excellence and service to the poor in local communities.  Her life-long devotion to Mary, the Mother of God, and her ability to "let go and let God" led her through life's changes and challenges reminding her of "…the vastness of God's plan for His people."  She worked hard and was generous with her time and energy in ministry and community responding with a loving heart to the needs of those around her. We are deeply grateful for her life of service among us and in mission to the people of God in the Philippines, Hong Kong, El Salvador and in the United States.
We welcome in gratitude the presence of her siblings and their families who have lovingly accompanied Sister in her life-long service to the people of God through her commitment to the Maryknoll Sisters Congregation.
We also welcome our brother in Maryknoll, Fr. Wayman Deasy, M.M., as the celebrant of the Eucharistic Liturgy of Christian Burial today.