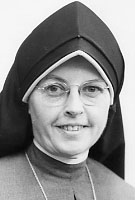 Sister Mary Elma Belscher, MM
Born: June 20, 1910
Entered: July 4, 1938
Died: June 19, 1999
This morning we gather to celebrate the life of Sister Mary Elma Belscher who on July 4th would have celebrated sixty-one years as a Maryknoll Sister. Sister was in Residential Care when she died peacefully on June 19, 1999, the eve of her 89th birthday. We welcome each of you and thank you for joining us in this Eucharistic Celebration.
Elma Clara Belscher was born June 20, 1910 in North Collins, New York, one of nine children – three sons and six daughters – to Peter and Ottilia Weber Belscher. Elma received her early education in North Collins and after graduating from high school, attended evening classes at Ross Nurses Training School, Buffalo, and was licensed as a Practical Nurse. She loved nursing and so pursued her studies at Mercy Hospital School of Nursing, also in Buffalo, and became a Registered Nurse in 1933.
After receiving her R.N., Elma worked in the Nursery at Mercy Hospital for four years and then switched to Public Health Service at Marine Hospital in Norfolk, Virginia. She had expected to continue in public health work but the call to enter religious life was strong. She became interested in foreign mission work through reading various magazines, especially the Field Afar, and she felt that her nursing skills would be of real service in the countries where our Sisters were in mission. She chose Maryknoll because it was a young community, a foreign mission community and because her confessor, Father Paul Koch, had two sisters in Maryknoll and thought Maryknoll was simply the best! Father Koch's sisters were Sister Mary Grace and Sister Mary Perpetua. On July 4, 1938, Elma entered at Maryknoll, New York.
Three years later, Sister Elma made her First Vows and the following year was assigned to Guadalupe, California where she did nursing in the Hispanic community. Elma made her Final Profession in Guadalupe, and the same year was assigned to Siuna, Nicaragua where the Maryknoll Sisters had a school and clinic. Working in the isolated mountain mining town of Siuna for more than four years, she taught hygiene, developed a public health program and served as mid-wife.
Sister Mary Elma was then assigned to the Philippines, the place she called home for the next twenty years of her missionary journey – fourteen years working in St. Joseph's Hospital in Manapla and six years at the Center House in Manila serving as infirmarian for the Sisters. In the hospital administered by the Maryknoll Sisters in Manapla, Sister worked with a team of doctors, nurses, laboratory technicians and pharmacists. She later spoke of those years as among the most satisfying of her missionary life. "The people were poor. Their deep faith made working with them special. We were stationed in the midst of the sugar plantations, but we had the latest in hospital equipment and were able to give our patients – most of whom worked at the Victoria Mills – the finest medical care."
In addition to her arduous nursing responsibilities in the hospital, Sister Elma arranged retreats for the hospital staff and found time to visit people in the surrounding barrios and saw the need for more religious education, especially for children. In fact, there was so much religious education work to be done that she had to enlist the help of teenagers to assist her in the program. Describing how the group 'Teenagers to the Rescue' came into existence, she wrote:
We decided that we owed it to the people in the area to supplement the lack of catholic schools by making available regular religious education classes for the children. In no time we were sending 1500 children to the hospital compound for instruction. The children came in two groups, about 750 each time. The first day was quite overwhelming. At the end of the first day, we were thinking about how to better handle so many children but we just couldn't think what to do. Then one of our nurses mentioned the problem to her teenage sister at home, and that teenager came up with the solution. Twenty-six high school girls arrived about fifteen minutes before the onslaught on Thursday and Sunday afternoons, and they took over quickly and efficiently.
In 1968, Sister Elma returned to the United States and for sixteen years served the Congregation as a nurse at Bethany, at St. Teresa's, at the Novitiate in Valley Park, Missouri, and at the Center. During these years, she continued to educate herself regarding new medical developments and completed an intensive program in 'New Approaches to Gerontology' and 'Pharmacology for Nurses in Long Term Care Institutions'. In 1984, she became Sacristan at the Center, a service to the Congregation which she lovingly and faithfully performed for five years.
On the occasion of her Golden Jubilee in 1988, Sister Elma reflected on the blessings of her life as a Maryknoll Sister: "In the past 50 years the changes in the church and the world at large have given me a deeper realization that God is in charge of everything. God's ways have not always been my ways but the deep joy and peace in knowing that I am where God wants me to be and doing what God wants me to do means everything."
In my growth and experiences in Maryknoll, I treasure most the call to serve others as a Maryknoller according to God's plan for me. I think it is a great privilege to share life and work with people of different cultures in their own land and to live, work and share with sisters who have had experiences in other lands and other cultures and to hear of their faith, love and perseverance in their mission vocation. It is a rich experience and very worthwhile.
Sister Elma earned a reputation as an excellent nurse – generous, conscientious, considerate and concerned about each person she cared for. She healed the wounds of others through both her professional skills and her gentle spirit. Her delightful sense of humor and quick wit endeared her to those who knew her. The Gospel chosen for today's Liturgy beautifully exemplifies her long life: "I was hungry and you gave me food, I was thirsty and you gave me drink, a stranger and you welcomed me, naked and you clothed me, ill and you cared for me, in prison and you visited me…" Sister Elma was a caring and compassionate woman particularly towards those who were ill, in pain and in need of healing.
We extend our deepest sympathy to Sister Elma's family and friends. We also extend our deepest sympathy to Sister Joan Bielmann, who is Sister Elma's cousin. We thank Sister Joan for so lovingly and faithfully attending to Sister's needs throughout the years and for all the joy she has given her. We welcome our Maryknoll brother, Father Gerald Nagle, who will preside at this Eucharistic Liturgy of Christian Burial as we lovingly remember and give thanks for the life of our Sister Mary Elma.