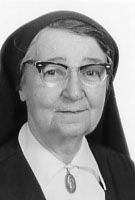 Sister Mary Evelyn Farrell, MM
Born: September 15, 1906
Entered: October 15, 1928
Died: November 26, 1996
Sister Mary Evelyn Farrell died at Phelps Hospital at 7:35 p.m. on Tuesday, November 26, 1996. Sister was admitted to the hospital and died peacefully at the age of 90. With her were Sisters Irene Solzbacher, Roberta Salvador, and Angela Brennan. The Sisters, together with Sister Anne Marie Emdin, rotated watches with Evelyn day and night since the previous Sunday.
Evelyn was born September 15, 1906, in Montreal, Canada. Her elementary education was at St. Patrick Academy in Montreal where she also had three years of high school.
Evelyn stayed at home to care for her mother, Mary, who died in 1927. Evelyn commented three days before her own death: "They're giving me morphine; my mother got scotch whiskey when she was dying!" Her father, James, lived until 1950 and Evelyn frequently spoke of his tender love and gentleness. She had three brothers and three sisters. To Sister Evelyn's family and friends, we extend our sympathy and assurance of prayers in their bereavement.
Sister Evelyn entered Maryknoll on October 15, 1928, and made her first profession on January 6, 1931, at Maryknoll. The same year she was assigned to Hawaii where she made her final profession on January 6, 1934, in Honolulu.
In Hawaii Sister taught kindergarten, grades 1 and 2, as well as music, especially piano, in Waikiki and Punahou. For two years she worked in the kitchen in Nuuanu and Waialua. Throughout her teaching time in Hawaii, Sister Evelyn frequently expressed how much she loved the little ones. In particular, she was frequently touched by the thoughtfulness the little children showed to one another and to herself. Sister was known as an outstanding kindergarten and first grade teacher, able to maintain good discipline with innovative techniques to keep the children's attention. Over her years of teaching, Sister came to know many families because she had three generations of members in their early classes.
In 1971, when Sister moved into her senior years, she taught reading part-time as an assistant teacher and in the 1980's was a part-time teacher aide. In 1990 Sister Evelyn retired at Maryknoll, New York, and in June 1994, because of multiple health problems, was admitted to the skilled nursing facility.
Throughout her life, Sister Evelyn was known to be gentle and mild. She was a person of simplicity, quick to ask pardon if she thought she offended anyone. She had a kindly sense of humor and became known in community as "a peacemaker." From her earliest days in the community, she was seen as one whose whole heart and soul were for the things of God. Indeed, she said that she entered Maryknoll so that she may spend her whole life in God's service. Evelyn's own interest in mission developed through the reading of mission magazines.
Throughout her 59 years in Hawaii, Sister often expressed how happy she was to be there and relished her experiences. It was only through an inner struggle that she eventually came to realize and accept the need to move into full retirement and move to the Center. By that time in 1990, she looked forward to living at the Center and, while able, devoted much time to prayer and visiting the sick. Except for renewal programs in which she faithfully participated from 1949 to 1980, living at the Center on an extended basis was a new experience for Evelyn.
Change is not easy, but Evelyn graciously adapted to adjustments to her life necessitated by age and/or health. She remained an active member in community. In 1977 when already semi-retired in Hawaii, Evelyn used to bake on the cook's day off "because it shows you care." In later years, Evelyn's health prevented her from playing the piano, something that was a hardship and disappointment to her. Even while at the Center, despite serious health problems, she remained alert, conversational, and gracious as always.
Sister Evelyn had great devotion to God as Father and a wonderful childlike quality about her. She confided to Sister Irene that she felt she had seen God the Father once, looking at her very lovingly, but He had not said anything to her. On the Sunday before she died, Evelyn shared this with Irene and wondered why He had not said anything. She seemed to go to sleep for a while and then smiled and said, "He finally did."
Sister Evelyn will be missed, but the memory of her gentle presence remains. There were a number of community members who were particularly fond of and attentive to Sister Evelyn. We think in particular of Sister Jane Bruce who was a special friend for many years. To Jane, other Maryknoll Sister friends and her family members, we reach out in sympathy in the sorrow of separation. Yet, we take consolation from the words of Jesus expressed in the Beatitudes: (Mt. 5:1 – 12) where Jesus highlights the meek, the single-hearted, the peacemakers and says how blessed they are be glad and rejoice for your reward is great in heaven. Today we are glad and rejoice for the new life Sister Evelyn now enjoys.
We express our appreciation to our Maryknoll Brother, Father Michael Duffy, as the celebrant for the Liturgy of the Resurrection. Let us be glad and rejoice!