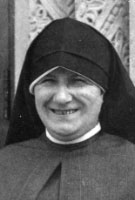 Sister Mary Eymard Lappin, MM
Born: March 17, 1884
Entered: August 4, 1921
Died: October 19, 1959
Sister Mary Eymard (Annie Martha Lappin) was born in County Tyrone, Ireland on March 17, 1884. She came to this country in 1901 and worked in and around New York City until she came to Maryknoll.
Sister Eymard entered Maryknoll on August 4, 1921 and was professed on April 19, 1924. With the exception of four years at the Venard, the rest of Sister's religious life was spent either at the Motherhouse or Bethany. While she too would have been happy for a foreign mission assignment, she was willing to do God's work here at the Center, in serving her Sisters and our Maryknoll Fathers, in the domestic arts. Sister was a zealous worker until she became ill in 1956.
May I commend Sister's dear soul to your good prayers. A Solemn Requiem Mass was sung at Bethany at 9:30 on Wednesday, and then the body was laid to rest in our new cemetery.