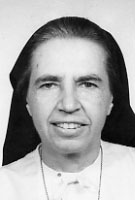 Sister Mary Fidelis Dorsch, MM
Born: April 3, 1908
Entered: September 24, 1924
Died: October 25, 1998
We gather this morning to remember and celebrate the life of our Sister Mary Fidelis Dorsch with whom we have shared faith, mission and our Maryknoll vocation. Sister died peacefully at 6:45 a.m. on Sunday, October 25, 1998, in the Residential Care Unit at Maryknoll, NY. She was ninety years of age and had been a Maryknoll Sister for seventy-four years.
Elizabeth Mary Dorsch, fondly called Elsie by her family, was born April 3, 1908 in Jamaica, Queens, New York one of eight children – seven daughters and one son – to George and Mary Schaeffer Dorsch. Elizabeth received her early education at St. Mary's Presentation Grammar School. After graduating from a two-year commercial course offered at St. Michael's High School, she worked as an operator and supervisor at the New York Telephone Company in Jamaica, Long Island.
At the age of sixteen, Elizabeth Mary applied for admission into the Maryknoll Sisters Congregation, then known as the Foreign Mission Sisters of St. Dominic. At that time, the Congregation had been recognized officially for only four years. On her application form she wrote that her missionary vocation was sparked while in grammar school by a visit of an Irish missioner and that her greatest desire was to be a missioner. She joined the women of Maryknoll at the Venard in Clarks Summit, Pennsylvania on September 24, 1924.
At Reception, Elizabeth received the religious name of Sister Mary Fidelis, the name she retained throughout her religious life. She made her First Profession April 30, 1927 and her Final Profession three years later on the same date. Both ceremonies were at Maryknoll, New York.
After making her Final Profession, in 1930, Sister Fidelis was assigned to the Philippines, the place she called home for fifty years of her seventy-four years as a Maryknoll Sister. Her first assignment was to St. Paul's Hospital, Manila for eight years, then to Baguio for one year as Mistress of Boarders for Maryknoll Convent School, grade school students, followed by a return to Manila for seven years where she did office work at St. Mary's Hall, a residence for students attending the University of the Philippines which, in 1948, became Maryknoll College. She also completed her high school requirements and worked toward her Bachelor of Science Degree in Education while in Manila. During World War II, she was interned in various camps for three years and was rescued by paratroopers at Los Banos on February 23, 1945. After a period of recuperation she returned to Maryknoll Convent School, Baguio, served as Superior from 1946-1947 and taught Grades 3 and 4 for another eight years.
In 1953, Sister was assigned to the Caroline Islands where she taught in Yap and Koror. St. Mary's School in Yap was located in the basement of the Sisters' convent – an old German cement structure dating back to World War I. Sister's classroom consisted of a long narrow room where she taught fifth and sixth grades. Along with teaching, one of her many charges was the gardening with the older boys. They would go down to the lagoon and gather sea cucumbers which were brought back to school and put into a barrel of water at the farthest corner of the property. There was a lot of good-natured teasing about the resulting "smelly water" which eventually proved to be a good fertilizer for the gardens. The boys were very curious about the "state-side" vegetables and often picked the green tomatoes to taste them. Finding them unpalatable they would throw them away.
In comparison to the Philippines where Sister Fidelis had spent so many years, recreational facilities in Yap were very limited: a walk after supper when the weather was good – she could out-walk all of us – visits to the local hospital, an occasional motor boat ride to a nearby island for a picnic lunch and a delightful swim in the clear blue waters on a free day, a hike to the top of "Yap Mountain" from which one could see the Pacific Ocean on all sides. The highlight of the year was a sea plane trip to Koror about 250 miles south of Yap where all the Sisters shared retreat and vacation with the Sisters in Koror. Simple pleasures, but they were happy!
Reassigned back to the Philippines in 1966 Sister taught Confraternity of Christian Doctrine (CCD) courses in Malabon for three years and from 1969 to 1976 was Librarian at the elementary school in Baguio. During this time she also volunteered in the literacy program for adult indigenous women and as a member of the Task Force Detainees of the Philippines (TFDP), she was very involved in visiting political prisoners in Baguio. This Task Force was created in 1974 during Martial Law by the Association of Major Religious Superiors of the Philippines as a response to the physical and spiritual needs of the prisoners. Sister Fidelis was given special recognition in the 1990's and received an award from the Association of Major Religious Superiors for her work with the TFDP. In 1976, she returned to Quezon City and remained there until 1992 when she retired at the age of eighty-four.
Describing her return to the Philippines after her thirteen years in Micronesia, Sister Fidelis wrote: "I feel like a lady bishop visiting her priests. Let's go out to the mountains and see what they're up to!" During World War II, Sister had five footloose city seminarians on her hands. She put them to work among the Igorots, the indigenous peoples of the northern mountainous region of the Philippines, teaching them to hike up and down the mountains and to learn all about the poverty, culture, hopes and fears of the Igorots. Now she was to see the fruit of her labors!
Sister Fidelis was the first Maryknoll Sister to work with the Igorots in the mountains of Luzon. She adjusted herself easily to their culture and customs. They looked forward to her visits, felt she was one of them and, in no time, young and old alike knew and echoed one name: Sister Fidelis.
Sister Fidelis was a tireless apostle to them. In 1938 when she first began work with the Igorots, there were only twelve indigenous members of the Catholic community. Within a short period the numbers increased to the hundreds. A two-room school was built in Atab, near Baguio, made possible by donations from United States servicemen as their memorial to the Igorots who had loyally and faithfully helped them during World War II. Here, Sister Fidelis taught the children Christian doctrine, together with their A B C's.
In 1980, Sister described her work with the Igorots in these words: "A great deal of home visiting, walking and, when chance, offers for a ride. The walking is an apostolate in itself for on the way one meets many friends – chats, finds out the problems in the area, who is sick, the possibility of helping them to get to the hospital, problems in the family or just social visits to help keep up the faith, to drink their black native coffee and eat the camotes they prepared as they see me climbing up the hills to reach their homes, to direct them to agencies to find work. Saturday morning is set aside for teaching or preparing the paraplegics."
Summing up her years in the Philippines she wrote: "…it is truly wonderful to see the tremendous growth in leadership among the people, even here in the back hills of Baguio. The years of personal contact are bearing fruit, if only I could cover the area more frequently".
Sister Fidelis had come to know, love and appreciate the life and culture of the Igorots. She herself lived their unique and special quality of gratitude and their identifying characteristic, the Bayanihan spirit, which means "brotherly/sisterly cooperation." She had a wonderful gift for listening. Sister Fidelis will surely be ever remembered as a very kind, loving, generous and wonderful missioner, never to be forgotten.
We welcome our Maryknoll brother, Father Richard Agustin, who will preside at this Liturgy of Christian Burial as we thank and praise God for the life of our Sister Mary Fidelis.