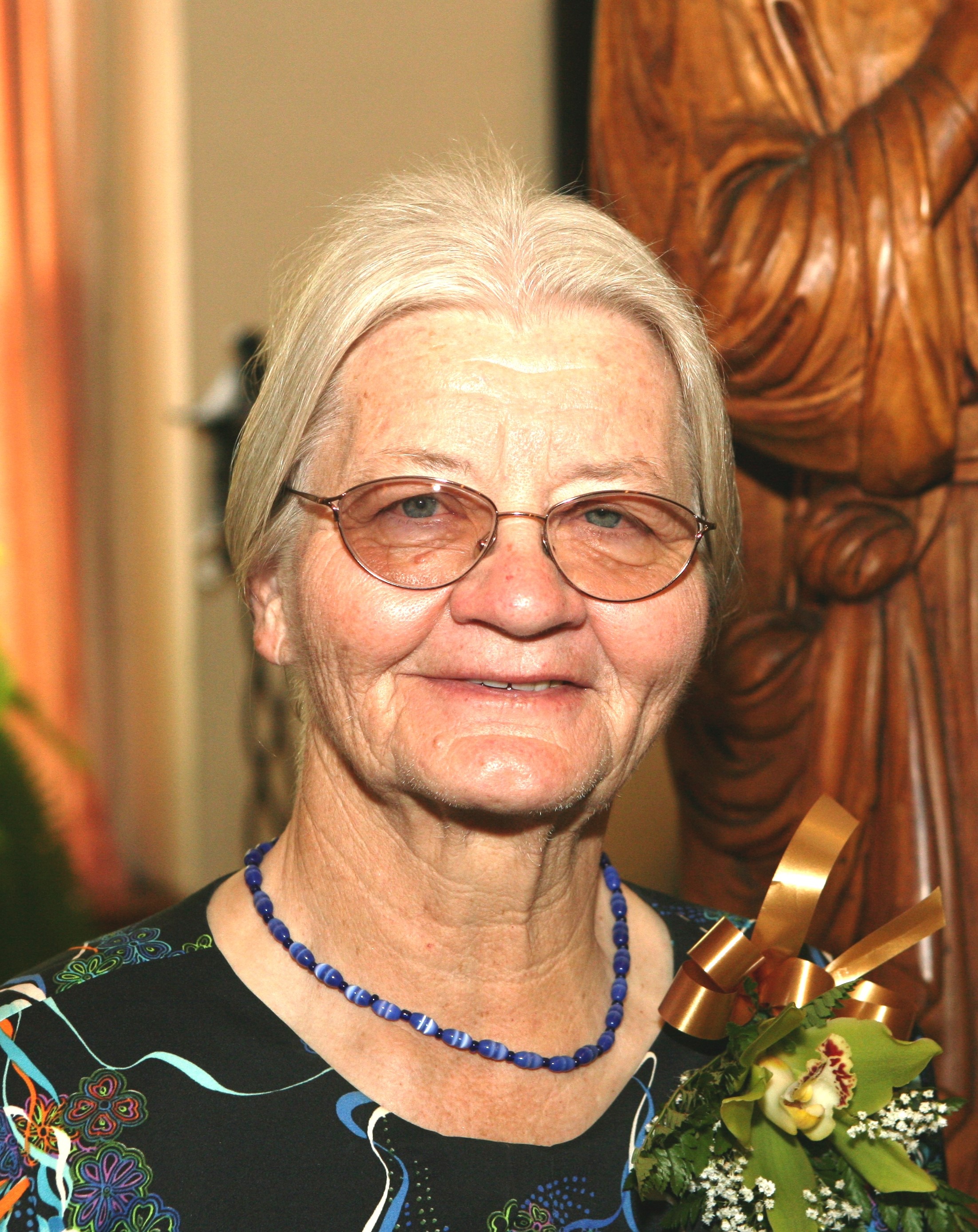 Sister Mary Frances (Fran) Kobets
Born: March 19, 1942
Entered: December 30, 1959
Died: June 29, 2018
Sister Mary Frances (Fran) Kobets died suddenly on June 29, 2018 in Gweru, Zimbabwe. She was 76 years old and had been a Maryknoll Sister for 58 years.
Mary Frances was born on March 19, 1942 in Kansas City, Missouri to Dolores Gardner Kobets and Godfrey S. Kobets. She had one younger brother, Thomas. Sister Fran attended St. Francis Xavier School and Loretto Academy in Kansas City. While in school, she volunteered at Queen of the World Hospital where she first met the Maryknoll Sisters. A conversation with Sr. Mercy, administrator of the hospital, lit the flame of a mission vocation that had been slowly growing within her. She worked as a nurses' aide at Menorah Hospital in Kansas City after her graduation in 1959 until she entered the Maryknoll Sisters Novitiate in Valley Park, Missouri on December 30, 1959.
At her Reception, she received the religious name Sister M. Frances Assisi. She made her First Profession of Vows in Maryknoll, New York on August 22, 1962 and her Final Vows on June 24, 1968, in Valley Park. From 1962-1963, she attended Maryknoll Teachers College in Maryknoll, New York; while studying she also worked in their Purchasing Department until 1966. Sister Fran then attended Kansas State University in Manhattan, Kansas, where she earned a Bachelor of Science Degree in Agriculture, Economics and Animal Husbandry in 1969. She was one of the first two women to receive this degree at the university.
Sister Fran's first overseas assignment was to Makoko, Tanzania. She studied the Zwahili language and taught at the Ministry of Agriculture Training Institute (MATIN) at Nyegezi in Mwanza from 1970 – 1978. She taught courses in food science and nutrition, agricultural zoology, animal nutrition and animal breeding. She also wrote and published a food science syllabus that was used for Under Five children's clinics and an animal feeding program for livestock that utilized local resources. In 1978, she returned to the United States to attend Kansas State University once again, this time to earn a Masters of Science Degree in Applied Animal Science & Industry in 1980. She returned to the University in 2011 to receive the Kansas State University Agricultural Economics Distinguished Alumnus award, which read in part: "Sr. Fran has shown visionary leadership and contributed to agriculture through improving health, nutrition and educational opportunities for thousands of African men, women, and children."
Sister Fran was then assigned to Zimbabwe in 1982. Arriving in the capital in February 1982, she observed the lingering racism and wrote: "Salisbury (now Harare) is a 'white city' where the style and cost of living is dictated by the minority, the white population…. Attitudes of whites towards blacks reflect 'separate development', going separate ways with whites not noticing or acknowledging the presence of a black man or woman." Throughout her life, Fran was a keen observer of attitudes and behavior and a staunch promoter of justice and human rights. She did not hesitate to criticize corruption, nepotism, and abuse wherever she found it, regardless of the consequences to herself.
Sister Fran was appointed to teach agriculture at Gweru Teachers' College where she headed the Agriculture Department from 1982 until 1995. Fran's next assignment was to the Development Department here at Maryknoll in the Mission Awareness and Promotion Program. For the next four years, from 1995 to 1999, she travelled throughout the Midwest giving mission talks in schools and parishes. Her father joined her on many of these promotion dates, passing out the leaflets and magazines and chatting with the people.
When Sister Fran returned to Gweru in 2000, she embraced a new ministry to assist children who had been orphaned by AIDS. She worked side by side with Sr. Patricia Startup who had initiated the project in 1999 in response to the growing need and a call by the Church to get involved in helping more than one million children who had lost one or both parents to AIDS. The Orphan Education and Agriculture Support Services (OEAS) was directed by Fran who, with a committed staff of four Zimbabweans, visited the students and provided counselling, tutoring and nutrition and hygiene support.
In her reflection at her Golden Jubilee in 2009, Fran spoke of how the 21 Jubilarians, celebrating that day, had shared memories of what drew them to Maryknoll. She said, "We laughed as we shared these impressions, but underneath, deeper within us, never completely understood, was the desire to be in God's presence always, and to share God's goodness and caring with others. The depth of that commitment has grown in our hearts… with a passion."
A memorial service was held for Sister Fran at the Maryknoll Sisters Center in NY. Her internment was held in Gweru, Zimbabwe on July 2, 2018.