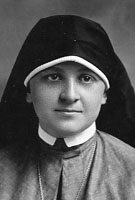 Sister Mary Frederick Bourguignon, MM
Born: March 19, 1902
Entered: April 29, 1921
Died: June 3, 1935
Sister Mary Frederick died on June 3, 1935. She was 33 years old and had been a Maryknoll Sister for 12 years.
Margaret (Mary Frederick) was born on March 19, 1902 in Brooklyn, New York to Mathilda (Fenn) and Louis M. Bourguignon. She had three brothers and two sisters. Margaret attended St. Cecilia's grammar school before going to St. James Pro-Cathedral and later St. Joseph's Commercial High School, as well as Hefley Commercial High School from which she graduated. She became interested in the foreign mission through Sister Marie de Lourdes. And when asked why she wished to become a religious, she simply said, "For love of God and souls." Margaret entered Maryknoll on April 29, 1921 and took the name Sister Mary Frederick.
Not long after entering Maryknoll, Sister went to Seattle and with a few other Maryknoll Sisters entered on a course of nursing at the Providence Hospital. Three years later as a registered nurse, she left for the Philippine Islands and was assigned to St. Paul's Hospital, Manila, where she remained from 1927 until last May. At that time an illness had begun to trouble Sister Mary Frederick and the doctors advised that treatment would best be carried out in the United States. Upon arrival in Seattle, Sister continued to suffer from this illness and on June 3, 1935 she entered into eternal life.