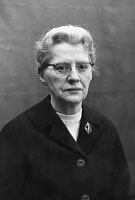 Sister Mary Galligan, MM
Born: February 16, 1907
Entered: October 15, 1927
Died: September 15, 1990
For several weeks we watched Sister Mary Galligan's condition change, and as the Feast of the Triumph of the Cross gave way to that of Our Lady of Sorrows, September 15, 1990, it became clear that the special devotion that Mary had for God's Mother would be rewarded. On the morning of the 15th Mary received the Sacrament of the Sick. Then staff and friends quietly prayed and visited with her until, at 10:50 a.m., she died peacefully in our Nursing Home, where she had lived and been lovingly cared for since 1987. When the announcement came, a hush seemed to pervade the house as so many of us stopped what we were doing and reflected on our own memories of Sister Mary and what this great woman had meant in our own lives.
Mary Cecilia Galligan was known to family and friends as Minnie. But to so many women of Maryknoll, she will always be remembered as Sister Paul Miriam. Mary was born in Taunton, Massachusetts, on February 16, 1907, to Louis and Margaret Shea Galligan. She was the fourth in a  family of six children, two boys and four girls, one of whom was our beloved Sister Louise Galligan (Sister Mary de Chantal). Mary was educated in St. Mary's Parochial Schools in Taunton. Two years after graduating from high school, she applied to Maryknoll so that she could save souls. Mary entered Maryknoll on October 15, 1926; made her First Profession of Vows on April 30, 1929, and her Final Profession of Vows three years later in 1932. Her own Novice Mistress, Sister Mary St. Teresa was to write of her, "She is very satisfactory, is always generous and very pleasant to be with. She is quite spiritual and has many excellent qualities."
In 1932 Mary graduated from Mt. St. Vincent's College with a degree in French. Immediately after graduation, she embarked on a life-long career of ministering to the young women who would enter Maryknoll. After eleven years of novitiate work, she was assigned to be Assistant Superior at the Motherhouse. Then the following year she was assigned to the mission at San Juan Capistrano in California. She considered this year at Capistrano a real blessing and often spoke of it in later years. However, this blessing was not to last. In 1945 she was called back to the Center and named Novice Mistress. And for the next nineteen years, she guided postulants and novices at the Center and at the Ladycrest Novitiate in Topsfield, Massachusetts.
Sister Paul Miriam worked with close to 2000 women in her ministry as Novice Mistress. Often she felt overwhelmed by this responsibility and, in moments of distress, she would find this a heavy burden. Even before she completed her work in the Novitiate and certainly in later years, she felt burdened by the decisions she had to make about peoples' lives. That she might have wronged some troubled her and she hoped they would forgive her. And yet she loved the novices and her work with them. Story upon story she could tell, and so can we – we who loved and revered her, who were awed by the stillness of her presence and by her eyes. Truly her eyes were the window of her soul – eyes that said everything; eyes that missed nothing; eyes that twinkled as she watched us learn; eyes that were sad when we were sad; and above all, eyes that challenged us to be faithful to our ideals. We remember how she prayed and how she taught us to pray, the beauty of her art, her humor and her humanness. We remember being frightened by the tales we needed to tell her and we remember the comfort we felt in her smile. As teacher, mother and sister — she was truly a model — asking us to do only what she herself had done first. And throughout it all, she was our friend, although some of us might not have realized it at the time!
When she was finally relieved of novitiate duties in 1964, she went to St. Mary's College, Notre Dame to study for a Masters in Theology. While there she wrote, "All the headaches connected with Reception and Profession seem very remote, but not to the point where I forget to pray for all who have to make decisions."
Following her studies, Mary was assigned to be Decennial Mistress. Now she welcomed home from mission those she had trained for mission. In 1962 she had made a quick trip to Mexico and from there she wrote, "The Sisters would be surprised to know that they are making more of an impression than the sight seeing! They have developed so much since novitiate days, and work so devotedly." It can be guessed that the Sisters returning to the Center for renewal pleased her no end.
After seven years in this work, she accepted an invitation to go to Peru where she was received with great love and affection. Unfortunately her health did not permit her to remain for more than a year and in 1974, she moved to Monrovia where she felt comfortable among her peers and where she could receive needed medical attention. When Mary entered Maryknoll, she had described her one gift as that of painting and drawing. Over the years Mary had taken courses in art history and techniques, but it was while she was in Monrovia that this gift reached its full bloom as she pursued her "second career as an artist."
In 1987, it was deemed medically necessary for her to move to the Maryknoll Nursing Home. About Monrovia Mary had written, "kindness is in the air here" – and about Mary, Dr. Baumgarten, Mary's doctor, wrote, "I found her an actually marvelous human being."
Today we bring an era to its proper conclusion, celebrating a life of total dedication to God and to Maryknoll Sisters past and present. As she once said, "Your whole life is your novitiate for Heaven." Indeed, Mary's novitiate has ended and her union with God is complete.
Today we welcome and offer our deepest sympathy to Mary's family and friends. And we thank Father Peter Ruggere, M.M., who is here with us and who will celebrate with us the Eucharist of the Resurrection.