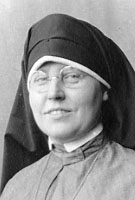 Sister Mary Gertrude Moore, MM
Born: October 7, 1894
Entered: January 30, 1924
Died: November 6, 1977
Sister Mary Gertrude Moore died at Bethany on Sunday, November 6, 1977.
Mary Ida Moore was born in Omaha, Nebraska on October 7, 1894. Her early education was in public school, while her high school and nursing studies were under Catholic Sisters of various communities: Madames of the Sacred Heart, Dominicans and Franciscans.
Mary Ida was a registered nurse and did private nursing in Omaha, She also had business training and several years of experience in the business world before entering Maryknoll on January 30, 1924. She was professed on December 8, 1926 and shortly thereafter was assigned to St. Paul's Hospital in Manila as a nurse. She made her final vows in Baguio on December 8, 1929.
Sister remained in the Philippines until 1932 when she was assigned to mission in the United States: Los Angeles, Boston Chinatown, Topsfield novitiate, and here at The Center in the Field Afar Office, She did excellent pioneer work in organizing our Sisters' Sponsor Department. We owe much to the wonderful foundation she laid and her encouragement to maintain a faithful followup. She knew well how to get results.
When our Community undertook saying the Divine Office in English in the 1930's, Sister Gertrude (the name she received at Profession) was invaluable. She translated the Latin Ordo into English correlating the pages to facilitate our following it.
One of Sister Gertrude's outstanding virtues, I believe, was humility. This was manifest from her earliest years at Maryknoll and throughout her religious life, especially in her correspondence with her superiors, As one who knew and loved Sister Gertrude, I think her humility was based on her opinion of herself and her willingness always to make known her ideas and then follow implicitly the decisions of authority,
When Monrovia was offered as a retirement house for our Sisters, Sister went there in 1969. She came to Bethany in 1974. There, as in the other missions where she was stationed, Sister Gertrude was as active as possible, contributing her work in the Arts and Crafts Department until last July.
The Mass of the Resurrection will be concelebrated here at The Center in the main Chapel at 11:45 a.m., November 8, 1977.