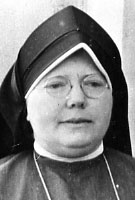 Sister Mary Gregory MacKey, MM
Born: January 22, 1904
Entered: July 5, 1924
Died: September 18, 1963
Sister Mary Gregory passed away at 11:45 last night, September 18.
Margaret MacKey was born at West Virginia Junction, January 22, 1904, one of four children. Sister attended the parochial schools in Charleston, West Virginia and New Lexington, Ohio, and did high school studies at Mt. Aloysius Academy and Stella Niagara. She entered the postulate at Maryknoll on July 5 1924, received the habit on April 30, 1925, and made first profession of Vows two years later. Sister was assigned to Hawaii the same year, and was a member of the pioneer group at Heeia. In 1941 Sister returned to the Motherhouse for further studies. In addition to studies pursued at our Maryknoll Teachers College, she earned a certificate in dietetics at the New York Institute of Dietetics. In 1944 Sister went to Seattle for studies, and received her Bachelor of Science from Seattle College in 1945, after which she returned to Hawaii. In 1953 Sister Mary Gregory came to the Motherhouse for the Rededication period and remained for an additional year to take charge of the Motherhouse kitchen.
Sister returned to Hawaii in June 1955, but in 1958 she had to return to the US for intensive medical treatment and went to Bethany as a patient in 1959. The following year Sister felt equal to undertaking some part-time editorial work which the Fathers arranged that she might do. Sister lived at St. Teresa's for six months but had to return to Bethany in March of 1961.
Sister Mary Gregory was an excellent teacher and a very talented and versatile one. She loved her students and followed them with her prayers and kindly interest after they left school. During my Visitation in Hawaii last year, many of Sister's former pupils, now adults, came to inquire about her, as they spoke with deep gratitude of the beautiful influence she had had on their lives.
The Requiem Mass will be sung at Bethany on Saturday morning, September 21, at 11 o'clock.