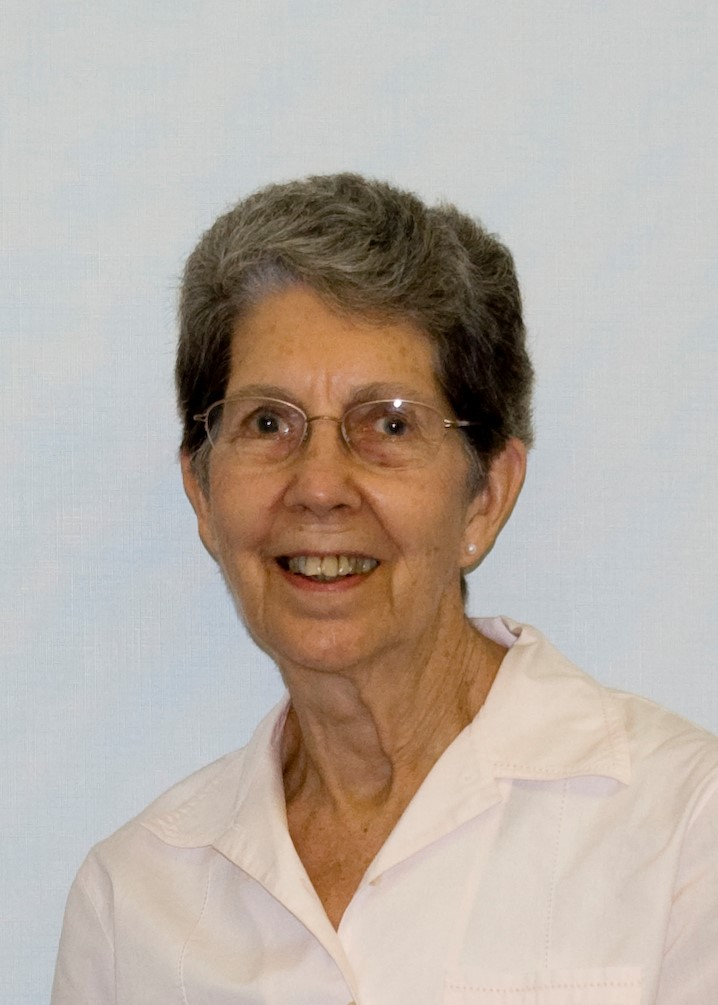 Sister Mary Grenough, MM
Born: July 2, 1933
Entered: December 30, 1956
Died: January 30, 2021
Sister Mary Grenough died on January 30, 2021. She was 87 years old and a Maryknoll Sister for 64 years.
Mary Agnes Grenough, formerly Sr. Mary Joseph Sarto, was born on July 2, 1933 to Bernadine (Dudine) and Edward Robert Grenough of Louisville, KY, one of seven children. She gave credit to her parents for instilling in her 'the desire to serve people in poverty'. Mary attended Loreto High School, graduating in 1951. She took a 3-year course at St. Anthony School of Nursing for Instruction and Practical Training in Louisville, KY, graduating in 1954. In 1956 she received her BS in Nursing Education at Nazareth College, KY. She obtained her MS in Nursing Education from St. Louis University, MO in 1962 with a thesis on "A Study of the Conditions, Needs and Practices in the Maryknoll Foreign Mission Nursing Apostolate".
When two Maryknoll Sisters came to talk to her 4th Grade Class about mission life and ministering to the Chinese people, Mary saw a glimmer of her vocation. Years later, with a 'strong desire to be a missionary and being attracted to doing work with the poor abroad', Mary joined the Maryknoll Sisters in Valley Park, MO on December 30, 1956 from her home parish, Christ the King. She made her First Profession of Vows in Valley Park on August 22, 1959 and her Final Vows in the Philippines on August 22, 1965.
In 1963, her first mission was to the Philippines where she was the Assistant Supervisor in the Company Hospital in Manapla, Negros Occidental, serving sugarcane plantation workers. There she had the opportunity to scan her environment to find the poor farmers who did not receive free hospitalization. She sought to get equal medical health care for all amid disparities between those who worked for the Company and those who did not.
Sister Mary's next mission was in the Bacolod Diocesan Social Action Center working as a registered nurse in charge of family life. She worked with Luis Jalandoni, who became a close friend and companion in the struggle for justice for sugar workers in the early 1970s. The Center helped peasant settlers who were driven out of the land that they cultivated for decades in the mountains of Negros. It was then that Sister Mary became known as 'Mayang', a nickname of endearment, for someone who took risks for the exploited sugarcane farmers or sacadas. Sister organized programs to provide health education and, in turn, learned about traditional medicinal plants.
After Martial Law was declared in 1972, Sister Mary moved to Manila and worked at the Impact Magazine, a publication of the Asian Partnership for Human Development of the Federation of Asian Bishops Conferences. After studying the Tagalog language, she joined the Rural Missionaries of the Philippines, a group of Sisters from various Congregations who provided health care to poor people in rural and urban poor areas. Mary pioneered a Community Health Based Program for populations in needy areas and organized paramedical education programs to empower workers to address health needs of people who could not afford expensive medical services. One of these programs was implemented in Buug, Zamboanga del Sur, Mindanao where a Maryknoll Sisters community served. The program ran for 10 years (1982–1992), training the staff and 100 health workers to give services to people in 8 remote villages and towns.
In the early 1980s, Sister Mary returned to Maryknoll, NY for treatment of an illness. From 1983 to 1985, she worked in Social Concerns Office and in the China History Project at the Sisters' Center, NY. On the Regional level, Sister Mary became the Admissions Coordinator in the 90s, organizing Search-in opportunities and nurturing vocations of young women interested in the Maryknoll Sisters.
Altogether, Sister Mary spent 40 years of health ministry in the Philippines. She said that she was born in Louisville, KY but was baptized in the Philippines. She focused on organizing health professionals into the Council for Health and Development to offer health education, skill training, and community building to doctors, nurses, health students and all levels of health workers based on an analysis of the relationships between economics, political power, and health.
Following Jesus who went to the other villages, Sister Mary was drawn to another mission. It started when she met a priest from Myanmar outside our Regional House in Quezon City looking for the Opus Dei house. That first meeting led to many more until Fr. Donald invited Mary to visit Myanmar. In February 1995, Sister met Bishop Paul Gwang, Archbishop of Mandalay, who was interested in sending young people to higher education in the Philippines. Sister Mary procured scholarships and accommodation for them. In Davao, she made arrangements with Maryknoll Sister Cecilia Wood, to provide housing at Our Lady of Victory. In 2001, Sister Mary and Maryknoll Sister Teresita Perez went for one month to teach English in the Kachin State of Myanmar. The next years saw a number of young women from Myanmar studying in the Philippines.
Deciding to stay in her newfound mission, in 2006, Sister Mary requested a membership transfer from the Philippine Region to Cambodia to facilitate a presence in Myanmar. She helped to form a collaborative team with 3 Philippine Catholic Lay Missioners, 2 Vietnamese-American Maryknoll Lay Missioners, 1-part time Maryknoll Brother, and herself. She started a program for HIV/AIDS patients and their families in 6 dioceses. The next year, Mary's compassionate AIDS ministry welcomed a 13-year old orphan getting treatment for AIDS in Yangon named Lulu who named their Center 'Happy House'. The house was a meeting place for volunteers, Maryknoll missioners, mission partners, affiliates, international congregations, students, and Buddhist monks.
Sister Mary's talent for 'networking' played out in Myanmar where she invited Maryknoll Sister Kathleen Reiley to help many in Yangon and Mandalay to 'feel at home being a Catholic in a Buddhist Burma by learning to use meditation prayer based on Christian Scriptures'. She also invited Maryknoll Sister Claudette LaVerdiere to give classes in Theology.
In the following years, Sister Mary became the inspiration for various projects – micro-lending, scholarship, and an HIV/AIDS network called MCHAN (Myanmar Catholic HIV-AIDS Network) founded in 2010 to address the need for information, to dispel high stigmas, and to give support to those dying with HIV/AIDS. Mary spent more than 12 years in Myanmar. When her family visited Yangon in 2014, her brother asked if she had a dream that she wanted to fulfill before leaving Myanmar. Sister Mary admitted that 'she had a significant dream hidden somewhere in her consciousness'.  It became known as 'Mary's Dream', a dream to start a simple pilot program for community-based health to provide pre-natal care to mothers – including blood tests to prevent the transmission of HIV to their babies, as well as providing other basic needs. Together with MCHAN, 'Mary's Dream' now collaborates with a 17-member network throughout Myanmar.
Sister Mary's next move was to retire at our Maryknoll Sisters house in Monrovia, CA in 2016. As her health needs increased, she moved to the Maryknoll Sisters Center, NY for more medical care.  At the Center, she volunteered to be a member of CenterCerns, a group that addresses issues of justice and peace.
Last Christmas, Sister Mary draped a handwoven cloth from Myanmar over her curtain and accented it with a big silver star that symbolized the star that guided her during her life as a Maryknoll Sister. That cloth material and star are now part of Mary's mission artifacts from the Philippines and Myanmar. Mary was a missioner, a Maryknoll missioner par excellence. Her preferential love for the poor was manifested in her one precious life that was spent in generous service of those who needed assistance for health and wellbeing. She furthered her generosity by donating her body to science. Her ashes will be interred at Maryknoll Sisters Cemetery, Maryknoll, NY.