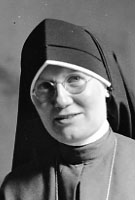 Sister Mary Jean Dicks, MM
Born: July 12, 1900
Entered: February 3, 1923
Died: June 6, 1960
Sister Mary Jean Dicks died on June 6, 1960. She was 59 years old and a Maryknoll Sister for 37 years.
Rose (Mary Jean) was born on July 12, 1900 in Chicago, Illinois to Rosa (Haag) and Emil Dicks. She had two half brothers, a half sister, and two sisters. Rose attended grammar school through high school at St. Alphonsus. She became interested in the foreign missions through lectures and readings. She entered her religious life on February 3, 1923 and took the name of Sister Mary Jean.
Sister Mary Jean's first three years were spent at The Field Afar office. She was then assigned to Seattle where she taught both kindergarten and first grade until 1934. Her next location was to be Darien, Manchuria, where she was able to work until December 7, 1941. At that moment in time the world was at war and Sister Mary Jean's internment began. She was repatriated on December 1, 1943 and remained at the Motherhouse for a few months. Sister left the Motherhouse in July of 1944 to teach in Heeia, Hawaii. Sister worked there until 1948 when she went on assignment to Japan and served in Kyoto, Hikone, and Tsu.
Mary Jean's illness began to show a few months leading up to her death on June 6, 1960. We will always remember the caring work of Sister Mary Jean. We know that she is smiling and thinking of us as she explores the wonders of her eternal life.