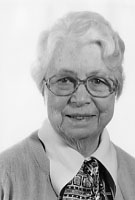 Sister Mary Judith Tivnan, MM
Born: May 17, 1901
Entered: October 14, 1925
Died: April 18, 1984
Today, through the celebration of the life of our Sister Mary Judith Tivnan, she leads us closer to the Lord she so faithfully served. We are confident that her hope is fulfilled as she is welcomed into her eternal reward. In springtime Sister Judith always appreciated the loveliness of new creation and saw God in it all — and now she has reached her own springtime, her new creation — and we thank God for the gift of her life to us all.
Catherine B. Tivnan was born in Salem, Mass. on May 17th, 1901, daughter of Francis Aloysius and Katherine Sullivan Tivnan. There are two other children, Clare and Louise, who are with us today, and to whom we extend our love and sympathy.
Catherine attended Notre Dame Academy in Boston. When she entered Maryknoll on October 14, 1925 she told Mother Mary Joseph, "I come to serve God and help others in the best way suited to me."  After her first vows on April 30, 1928, she was assigned as a teacher to Wailuku, Maui, in Hawaii, where she pronounced her final vows on April 30, 1931. That same year, Sister Judith was assigned to the home for Japanese Children in Los Angeles as Assistant Superior; and in 1934 to Seattle, Washington, Maryknoll School for Japanese, where she served as Superior for 6 years. On receiving this assignment she wrote to Mother Mary Joseph, "I am quite fearful knowing my own hidden failings, but since God has permitted it, He will see me through everything for His honor and glory…"
Sister Judith's sense of humor comes to mind when we recall what she wrote when her own sister, Clare, who had entered Maryknoll, was assigned to Seattle: "The Sisters say she looks so much like me I can send her to the parlor when I don't want to go and no one will know the difference!"
Many will remember when Sister Judith was Junior Mistress at the Motherhouse and then Superior from 1943-49. During this time her care and concern for the well-being of the Sisters was especially shown in her visits to the sick; her great open arms welcomed families, friends, and guests of Maryknoll and seemed always extended cheerfully and sincerely. One of her more controversial decisions during this time was to discontinue doing laundry mending and especially sock-darning for the Seminary students; this was appreciated by the Novices who dreaded sock-darning.
In 1949, when Sister Judith finished her term as Motherhouse Superior, she wrote to Mother Mary Columba: "I have heard you are having difficulty finding Sisters to do domestic work. I think I could do ordinary things if someone would be patient with me for a while and teach me. I only hope to be able to do whatever you ask of me willingly and lovingly for the honor and glory of God with a grateful heart that He has permitted me to be a member of this dear Maryknoll family."
Sister's many talents were recognized and after receiving her Bachelor of Education degree from Maryknoll Teachers College in 1949, Sister Judith headed west to Los Angeles as the first principal of the Japanese School just opened after World War II. In 1953 she was appointed Superior until 1959.
During this time in Los Angeles, Sister Judith reflected often on her past experiences and felt, as she said, that she had "Deepened her sense of trust in God and her desire to do His will and be His instrument in helping others also." Her ability to listen, to plan and work with others was appreciated when she was a delegate during the Chapters of 1946, '47,'58 and '64. After the 1958 Chapter, she returned to the West Coast and in September 1959 became the Western U.S. Regional Superior. This was a time of great change in the Church and in Maryknoll. Sister Judith is remembered for her ability to reflect and to share Mother Mary Joseph's ideals. Her fidelity to Maryknoll and its mission was uppermost in her mind as she tried to bring the Sisters together in mind and spirit.
In 1967, she wrote to Mother Mary Coleman, "I believe a younger person would bring more vision, more creative thinking, would have more physical stamina, psychological insight, personal rapport with the young and therefore, do a better job for Maryknoll, for Church and for God…I have never shirked from responsibility: 24 years as a local superior, 8 years as regional (combined with 6 as local at Monrovia), 6 years as assistant superior and 4 years as principal out of 38 years of professed life. That is too long to be in authority…so, after long and prayerful deliberation, I would like you to appoint someone to replace me as regional superior on the Pacific coast."
Her request was granted and Sister Judith's talents were made good use of at an experiment of our Cloister Sisters with a House of Prayer at Topsfield. "I don't know how to express my gratitude for your everything,  one of the participants wrote, "sharing your beautiful, deep, dignified and holy insights with me – you were my house of prayer."
Since 1968, Sister Judith has shared her gracious life with us here at the Center wanting to fill in anywhere in order to relieve a young Sister for the missions. Her abilities and talents were deeply appreciated in treasury. Her extracurricular activities included visiting our sick in the nursing home; driving others for shopping and hospital visits; taking courses at the Seminary in scripture, serving on the Chapel Renovation Committee, lending a hand wherever she was needed, and keeping herself abreast of all that was happening.
Sister Judith's Golden Jubilee celebration in November 1975 was filled with joy as she was surrounded by her family and friends. She is described by her friends as generous and thoughtful with a spirit of self—sacrifice and a fine sense of humor. She was a maker of peace, whose presence was always a gain. Says one: "It's been so good to know and experience someone who is so beautiful in aging – because of your warmth, beauty and gentleness you witness to the beauty of growing in wisdom and age before God and all of us."
Today, Sister Judith's wish to give her all to God was fulfilled. As we look forward to the Feast of the Resurrection,may our faith and trust in the Risen Lord be strengthened through her life which we were privileged to share.
We, her Maryknoll Sisters, join with Father Joseph Lang of the Maryknoll Society, and her sisters, Sister Clare and Louise Tivnan, as we celebrate this Eucharistic Liturgy in thanksgiving and remembrance of Sister Judith.