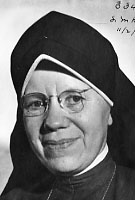 Sister Mary Kevin Hayes, MM
Born: May 28, 1901
Entered: June 6, 1925
Died: February 19, 1979
"My witnesses, says the Lord, are you, you whom I have chosen to know me and put your faith in me and understand that I am He." Isaiah 43:10.
Sister Mary Kevin Hayes died on February 19th at St. Teresita's Hospital, not far from our house in Monrovia, California. Her funeral will be today, with the Mass of the Resurrection at Maryknoll in Monrovia, and burial in Queen of Heaven cemetery.
Johanna Hayes was born on May 28, 1901 in Rosscarbery, County Cork, Ireland, the sixth of thirteen children, whose parents were James and Mary Ann Hayes. At the age of 19, Johanna came to the U.S. and entered Maryknoll five years later, in 1925. At reception, Johanna received the name Sister Mary Kevin – Mary, for Our Lady, for whom she always had a deep love and Kevin, in honor of a young seminarian, who had sacrificed his life for others during troubled times in Ireland.
In a letter to Mother Mary Joseph, Johanna Hayes stated she wanted to enter Maryknoll "to help in some way to make God known to those who know Him not." The account of the ministries through which Sister Kevin served, and the witness of those who lived in community with her during almost 54 years as a Maryknoll Sister, indicate that she did, indeed, help many people in many ways, and that she revealed God through a wide embracing love, and a deep spirit of simplicity and generosity.
Sister Mary Kevin was assigned to Hawaii in 1931 and was to serve there for 46 years. From 1931 – 1936 in catechetical work at St. Anthony's, Wailuku; 1936 – 1952 at Maui Children's Home; 1952 – 1968 serving in Bishop Sweeney's residence; 1968 – 1969 pastoral ministry at St. Michael's, Waialua; 1969 – 1977 pastoral ministry at St. Ann's, Kaneohe. In 1977, Sister Kevin was assigned to Monrovia and continued to serve in the community there until her illness a few weeks ago.
These many years and places provided Sister Mary Kevin opportunities to share life with and minister to quite a representation of the people of God – seminarians, young students, deprived children, church leaders, families, persons aged, ill and alone. During World War II, when the U.S. Servicemen came often to visit the Sisters on Maui, Sister Kevin's delicious pies brought them a touch of home, and her care and concern resulted in enduring relationships.
There are many of our Sisters here who knew Sister Kevin well. All speak of the deep and simple goodness and prayerfulness of her life.
In 1975, Sister Mary Kevin sent a donation from the Sisters of St. Ann's for the poor victims of a severe flood in Peru. Her letter reflects a world-wide vision. In 1978, Sister Kevin spoke of being "very homesick for the Islands and our people there." However she would have expressed it in words, it seems clear that mission was for Sister Mary Kevin a total way of life.
Around Christmas time, 1978, illness in her family brought Sister Kevin east, and she spent some time here at the Center – a lovely memory for the Sisters.
We believe that in, and through Jesus, our Sister who lived out her early desire to help in some way to make God known, now sees Him as He is and lives in eternal union with Him.
As we pray for Sister Mary Kevin, may her life and her death draw us more deeply into God and may our lives be given in His way and for His people.