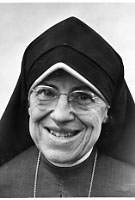 Sister Mary Loretto Clark, MM
Born: March 29, 1898
Entered: May 24, 1926
Died: March 15, 1979
All Maryknollers will feel a keen sense of loss in hearing of the death of Sister Mary Loretto Clark. For so many years Sister had been such a quiet, strong part of Maryknoll that her passing "leaves a lonesome place against the sky." And yet those of us who were aware of how much she had suffered these past years will accept with peace and gratitude the word that on March 15, at 10:45 p.m. Sister died at Phelps Hospital.
Margaret Ellen Clark was born in Brooklyn on March 29, 1898, the eldest of three children. She was educated in the public schools of Brooklyn, and then obtained employment in the firm of Cohn Hall Marx where she remained for 12 years, doing clerical work until she became Employment Manager. Throughout her life, Sister cherished the bond of friendship forged with her former business associates.
Margaret entered Maryknoll on May 24, 1926, made her first profession, October 28, 1928, and her final profession three years later. She was happy to receive her mother's name "Loretto" at reception. Sister's first assignment, to the Field Afar Office, lasted 13 years where her previous experience proved to be a valuable asset as she worked first in the multigraph department, and most of the time as office supervisor for the fifty Maryknoll Sisters in the office.
In 1939 Sister Loretto was assigned to Los Altos as Superior. She returned to the Motherhouse in 1944 as Assistant Superior, and Mistress of the Junior Sisters. Later on she was Superior at Crichton House and St. Teresa's and for many years was responsible for making out all the Motherhouse schedules for charges and housekeeping. Sister also supervised the maintenance of the Motherhouse grounds adhering with meticulous precision to the directions of Mr. Kado whose artistry had laid out the beautiful landscaping design.
Sister gives us the key to the dynamic motivating her complete involvement in her vocation when she answered the question, "Why do you wish to enter Maryknoll?" Her response was, "Because in this life I can best give service." Always and everywhere Sister served with courage and joy and boundless generosity. She expected the Sisters whom she directed to render a generous service, too, but all are agreed that she never exacted of others, the full measure she demanded of herself. When one in authority decided upon a course of action, Sister was undaunted in her efforts to implement it. In a note to Father Considine in 1972, she explained her philosophy, "I thoroughly enjoyed my years working at the (Field Afar) office. I remember when you and Father McCarthy took over, you wanted to increase the number of follow-up letters to subscribers to 5 instead of 4. I, a conservative, used to call myself the devil's advocate, because I usually disagreed with your progressive ideas. However, when you made a decision, I went along 100% with your plans, and you were always right."
Sister Loretto's attention to details is legendary. Her notes giving directions omitted no contingency. At times when one was posted in earnest haste the literal import caused merriment, and when this happened no one enjoyed the fun more than Sister, herself. E.G. in the fall when the leaves had been gathered into mounds, "Volunteers needed to burn on the hill." (Sister Jeanne D'Arc's name appeared first on the list) "Volunteers, please, to scrub the chapel for forty hours."
Sister Loretto's simple child-like faith in God and in His saints, and in others, was transparent. She was so genuinely sincere and single minded in her dealings with others that she could not conceive of duplicity. Her faith is reflected in her personal devotions. Sister had no difficulty in accepting quite literally the legend that Our Lady's little home at Nazareth had been transported by angels to the far away town of Loretto. She delighted in reminding us that Our Lady of Loretto was named the patroness of air pilots in 1920. Next to the Holy Family her favorite saint was St. Joseph of Cupertino, the Capuchin contemplative who died in Italy in 1663, and whose mystic phenomena often took the form of levitations developing into ecstatic flights. For one so practical and so down to earth as Sister Loretto, these attractions seem delightfully surprising.
In 1939 Sister Loretto underwent the medical treatment. Other procedures followed. Although Sister's health had been somewhat impaired for years, she continued her strenuous service, taking part wholeheartedly in all that Religious life entailed as far as her strength allowed. During the last part of her life she suffered intensely, and for the past year was a patient at Bethany, coming to the Nursing Home when the transfer was made in November.
Sister came to Maryknoll "to give service." We, who knew her, attest to the magnificent way she carried out her resolve. As we commend her to God, and ask Him to admit her into the fulness of His presence, we can hear Him say, "Well done, good and faithful servant". It is fitting that it is on the feast of St. Joseph that we offer for Sister Loretto the Mass of the Resurrection, and we lay her remains to rest in the cemetery she cared for so beautifully. May she now and for eternity enjoy a well-earned rest!