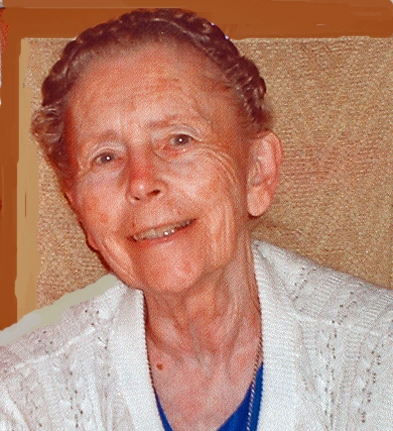 Sister Mary Lou Andrews, MM
Born: June 29, 1928
Entered: September 6, 1949
Died: June 30, 2017
Sister Mary Lou Andrews was a resident of the Maryknoll Sisters Center when she went home to God on Friday, June 30, 2017, the day after her 89th birthday.  She had been a Maryknoll Sister for 67 years.
Sister Mary Lou, who was known as Sister Rose Leon after profession, left simple but complete instructions in her "upon my death" document, including her own draft of her appreciation letter.  What follows is taken directly from her letter only "I" changed to third person:
Mary Louise Andrews was born to Lee and Rose Andrews in Utica, NY, on June 29, 1928.
Her only sibling and "favorite" brother, Bob, had been born the year before. Their Daddy Lee died when she was 3, so their wonderful mom raised them. Bob and Mary Lou were educated at St. Francis de Sales Grade and High Schools in Utica, NY. As they were entering high school, their mother married a good man, Henry Bell, their second Dad. After graduation, Mary Lou studied at St. Elizabeth's Hospital, School of Nursing, in Utica, then worked a year as an R.N. before entering Maryknoll at the Venard in 1949.
In 1952, she was professed and assigned to Likiep, Marshall Islands, where in 1955 she made her final profession.
Her assignments, in order of time, were Likiep, Marshall Islands; Infirmarian at the Motherhouse; Tanzania, Africa; US Senior Region; Caring for her Mom and Dad until death while doing parish work for St Thomas Church in Utica; Nicaragua; and last of all, her apostolate here at Maryknoll since 1998.   Mary Lou writes, "Actually, I'm ashamed to admit that during these years I have, on occasion, felt rather proud of my accomplishments. Now, I fully realize that it was all God's doing. It was certainly not mine to recount in detail."
The following was very important to Mary Lou:
The center of my life has been Holy Mass with the Eucharist and Mother Mary with the Rosary. I have tried to live in the presence of Jesus and Mary and to reach out in love and service to you, my Maryknollers; to the people in mission lands; to my family and to all who cross my path.  As I said, I've tried to do this, but know I often failed. So now while still alive, I ask pardon of those whom I have offended.  I have been pre-deceased by my Dad, Mom, and brother, Bob; and survived by nieces, nephews, cousins and pen-pal friends.  Since Bob died in 2008, his wife, Laurie, has been my dearest friend.
My life on earth has truly been very happy. My wish now is that we all meet happily in Heaven.
Although Mary Lou wrote that she wanted this to be short, there are a few other things we would like to mention.
She "was on Likiep when the first H-Bomb was exploded.  It proved to be ten times more potent than was planned. Likiep was quite radio-active for a few weeks."
When Mary Lou was leaving Tanzania, Bishop McGurkin wrote, "She is loved by everyone in the Diocese, by all Maryknollers, by the local Fathers and Sisters and in a very special way by the people who have grown to have a great love for her personally along with their complete confidence in her skill and dedication.  Her kindness and concern for everyone is a very effective apostolic method. In her daily life, by her way with the people, they have been able to understand what we try to teach them in catechism class about the love of God, the gentleness of Christ, the essential meaning of our Christian religion.  (1971).. we are all better Christians and closer to Christ for having had Sister Mary Lou in our midst during these good years.
Her presence in New Hartford, NY doing parish ministry while attending to her parents need was greatly appreciated.  Local newspapers profiled Mary Lou and her Moped.  Early in her time, she met a Janice Penner among those she visited regularly.  When the need presented itself, it was a one in a quarter million chance that a non-family member prove suitable, but Mary Lou was able to donate a kidney on April 1, 1980, affording Janice (who died on April 3, 1991) an additional 11 years of life.
Shortly after Mary Lou's mother died in 1987 and after taking care of family affairs, she was assigned to Nicaragua.  In 1998, after several years of ill health, Mary Lou returned to the Center where she fell into her role in sustaining the Wednesday Eucharistic devotion.
In her annual Advent-Christmas letter in 2013, Mary Lou explains the origin of her involvement with perpetual adoration, an early interest of Mother Mary Joseph.
"Upon my return from the missions, I felt impelled by Mother Mary Joseph to start a tiny token Adoration to Jesus in the Tabernacle for Mother's intention; that is, our missioners here and abroad." This endeavor was not without challenges, as she was caught in the Community's different understandings of Eucharist.  "We started on Ash Wednesday 2001 with 20 Sisters," she said, "We now average about 50 Sisters."  Mary Lou encouraged sisters returning to the Center to participate in this ministry.
Mary Lou wrote numerous notes to the CLT over the years: grateful for any small or large gesture, expressing her opinion on many Congregational matters,
"We want to share with you the joy we feel in praying for you every Wednesday from 8 a.m. to 4 p.m. before the Holy Eucharist.  We hope our prayers have helped you spiritually and in your missions.  Our quiet reflective time with Jesus has surely enriched us."
In 2003 Mary Lou wrote:
Often I am asked, "Whatever do you do to fill your time?"  My answer is, "I never have enough time to do all I want to do."  My greatest joy is still having daily Mass right in our own Chapel. After Mass, I spend time in Chapel visiting with Jesus whom I have just received in the Holy Eucharist.  Then I go to visit our sisters on the Skilled Nursing and Assisted Living floors.  I know all the sisters so very well and enjoy talking to them. Because I'm motorized—"with wheels", I can run errands and do other little tasks for them…. After my prayer time, I spend the rest of the "margin of my day" answering letters from my wonderful relatives and friends.
This correspondence included a number of prisoners, for whom she dedicated many prayers.
Much of her correspondence consisted of annual updates from the Eucharistic group. However, they also reveal her concern about Community changes and matters. She was never reluctant in thoughtfully expressing and sharing her opinion with others. This, however, was always marked with a deep love and a lively interest in all that concerned the Community to which she had so faithfully and generously committed her life.
We welcome our celebrant Father Joseph Kowalczyk who will preside at this Mass of Christian Burial.