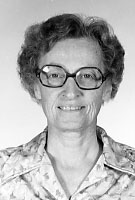 Sister Mary Louise Martin, MM
Born: July 9, 1926
Entered: September 7, 1943
Died: September 25, 2015
Who shall find a valiant woman? Far and from the uttermost coasts is the price of her. Prov. 31:10
We gather this morning to celebrate the life and mission of a truly valiant woman, our beloved Sister Mary Louise Martin, a great missioner, a remarkable catechist and a truly dedicated Maryknoll Sister. Sister Mary Lou died peacefully on September 25, 2015, at our Maryknoll Sisters Center. She was 89 years old and had been a Maryknoll Sister for 72 years.
Mary Louise was born on July 9, 1926 in St. Louis, Missouri, to Herbert C. Martin and Elizabeth Linn Martin. She had two brothers, Robert and Herbert Martin and two sisters, Mrs. Margaret Ritchie and Mrs. Catherine Fogarty. Her sister Catherine had come to Maryknoll to visit her the week she died.
Mary Louise graduated from St. Marks's High School in St. Louis in 1943 and entered the Maryknoll Sisters Congregation from Nativity Parish in St. Louis, on September 7 of the same year. At her Reception into the Community, she received the religious name of Sister Regina Marie. She later returned to her baptismal name. She made her First Vows at the Motherhouse on March 7, 1946 and received her first assignment to China the following year.
Mary Lou wrote, "I came to China when I was 21 years old. There were three of us together. We were straight from the United States and First Profession. We arrived in Hong Kong in September 1947 on a Sunday. By Friday morning we were on our way into the interior of China, without any escort, which we didn't realize was not ordinarily done." In Guangzhou, Father Tom O'Neill, MM, met them and the next day they were on their way to Wuchow (Wuzhou) Guangsi, Province, "up the river in a Chinese junk," she said, "not knowing one word of Chinese, not knowing how to use chopsticks, not knowing how to eat rice."
In Wuzhou, Sister Mary Lou began her language study. Fast at doing just about anything, Mary Lou soon became a whizz in Chinese, and in no time at all, she was engaged in catechetical work. She made her Final Vows in China on March 7, 1949. Her stay there was brief, however. In 1951, she, along with all other foreign missioners, was forced to leave China. She was assigned to Hong Kong.
For the next 20 years, 1951-1971, Sister engaged in various catechetical and pastoral endeavors throughout Hong Kong's parishes.
With the influx of Chinese immigrants fleeing the Communist regime and seeking refuge in Hong Kong, the 1950s were exhilarating years for the Church. Sister described it this way, "We had hundreds and hundreds of people in and out. We had at one time five to six hundred catechumens in [St. Teresa's] parish. Many came because of welfare reasons, but many stayed to become good Catholics." Sister was in charge of the catechumenate for women at St. Teresa's for some 15 years. There, she did social welfare work, set up the sodality and was totally involved in all kinds of parish activities. She also worked at the Diocesan Catechetical Centre where, as Deputy Director she directed much of the catechetical work throughout the entire Territory. It is not unusual, even today, to have some of the children of our old time parishioners come to visit and ask to see Sister Mary Lou saying, "She instructed my grandmother or my mother for baptism and brought the whole family into the Church." Sister loved her pastoral and catechetical work in Hong Kong. She said, "My many years in catechetical work gave me the opportunity of seeing the faith of the people mature. I never fail to be impressed by the faith of the people. One can feel it; it is tangible."
In 1972, she returned to the Maryknoll Center. There, she obtained a BA in Community Development from Rogers College and a MA degree in Religious Studies from Mundelein College, Chicago, before returning to Hong Kong in 1975 where she resumed her catechetical work.
Ten years later, 1982, Sister Mary Lou returned to the Motherhouse to serve as director of the Maryknoll Sisters Mission Institute. At the conclusion of her service, Sr. Suzanne Moore, then on the CGB wrote:
In the name of the Central Governing Board, I extend to you our deep gratitude for your Congregational Service as Director of the Mission Institute. Each of us realizes that you gave yourself wholeheartedly in a creative, highly intelligent and spirit filled way. The Mission Institute has definitely been enhanced by your leadership. (March 7, 1986).
While Sister was away, a committee in Hong Kong was at work setting up a new organization, later known as the Catholic Institute for Religion and Society, (CIRS) and given the task to prepare Hong Kong people and Catholics, in particular, for the return of Hong Kong to Chinese sovereignty in 1997. This was a very sensitive matter. Many people did not want to face the situation; others were fearful, and still others did not wish the Church to be involved in this controversial political issue. The new Institute was to be led by a three-member team composed of a priest, a sister, and a layman. The bishop favored Father Luke Tsui of the diocesan clergy for the priest, and Peter Cheung, an exemplary Catholic, for the layman, and all three favored Sister Mary Lou for the sister.
Sr. Mary Lou's choice as a team member led credibility to the new endeavor. She was a Maryknoll Sister, fluent in Cantonese and well known as a staff member of the Diocesan Catechetical Commission. Most of the parishes in Hong Kong knew Sister and recognized her for her expertise in catechesis and pastoral work. In 1978, she had co-authored a book in Chinese entitled (in English) "Living Faith through Christ." The book was actually the manual for adult catechumens. She was eminently qualified to meet the challenge of the task ahead.
Sister Mary Lou worked at the Catholic Institute for Religion and Society from its inception in 1986 until 2005. She was the first non-Chinese at the Institute. There she served in various capacities and performed diverse tasks, which included the administration, communications, writing, translation and general secretarial work. CIRS celebrated its 20th anniversary of service to the people of Hong Kong and China in November 2006, the year following Mary Lou's return to Maryknoll.
Sister Mary Lou also served the interior needs of the Region. She was house superior at King's Park, a delegate to the Special Chapter of Affairs in 1968 and to the 13th General Assembly. She served several times as a member of the Regional Governing Board. When the Hong Kong Region set up its China Task Force (CTF) in 1978, Mary Lou was chosen as chairperson. She was also the force behind the publication of the CTF newsletter, and the Region's representative to the Ricci meetings at the Holy Spirit Study Centre. In 1979 she made a trip to China, the first among the Sisters permitted to join and travel in a mixed group of Chinese and non-Chinese participants.
Sister Mary Lou returned to the Maryknoll Sisters Center in 2005 where she was an active member until health required her to join the Eden Community where she died.
We extend our prayerful sympathy to Sister Mary Lou's relatives and friends and we welcome Mary Lou's very dear friend, our Maryknoll brother, Father Ray Nobiletti, who will celebrate our Liturgy of Christian Burial.