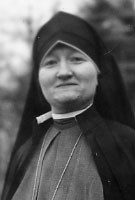 Sister Mary Louise Peck, MM
Born: January 18, 1904
Entered: October 15, 1929
Died: February 5, 1995
Unexpectedly, February 5th at 4:08 in the afternoon was Sister Louise Peck's time. She had been fed lunch in the upstairs dining room, as usual. The Residential Care IV staff checked her at 3:30 p.m. and found everything as usual. When they checked again just after 4 o'clock, they found Sister Louise had gone home to God, quietly and peacefully.
Sister Louise moved to Residential Care IV early December, 1987. We are grateful to our Health Services staff for their long-term, faithful care of her. Sister Louise now is beginning to build her new life with perfect vision in God's presence. Praise of God is now Louise's music which she loved all her life, especially classical and opera music. Through the generosity of her sister, Louise was always hospitable and gracious in sharing trips to the Met for dinner and the opera with many Sisters.
Sister Mary Louise Peck was born January 18, 1904, in Chicago, Illinois, and baptized Jeannette. She attended Catholic Schools, St. Joseph's Hall Elementary School and St. Joseph Academy High School, both in Bloomington, Illinois. She also attended Commerce Night School for two years. In the latter part of the 1930s and in 1946, Louise took part in the Maryknoll Teachers' College extension courses in Honolulu.
Louise entered Maryknoll October 15, 1929, and made her First Profession on January 6, 1932, at Maryknoll and Final Profession on the same day in 1935 in Wailuku, Hawaii ,where she had been assigned in 1932. Sister Louise was at Maui Children's Home, Punahou School and Waikiki, sometimes teaching Grades 1 and 2, and sometimes helping with home life for the Sisters. In 1939, Louise returned to Maryknoll, helped in the Promotion Department while living at Crichton House, worked again at the Venard and the Motherhouse and then was sacristan and general helper at Rosary Convent in Chicago. She returned to Waikiki in 1962 to do clerical and sewing work. Upon completion of her Decennial in 1969, Louise remained at the Center. Louise was a clerk in our College Library in the early part of the 1970s.
Sister Louise had many adjustments to make in her life. All her previous changes prepared her for her move to Residential Care IV, so that she was able to maintain a pleasant, cooperative attitude, and adjust well to her limited environment. Sister Louise has moved into her last adjustment and we rejoice that she now has perfect sight, healed body and is united with God. Sister Louise's parents and brothers are long deceased. Her sister died in 1991 and we can feel sure they all rejoice to be together again. Louise's other sister used to visit Louise every year and is present with us today. We share our prayers and sympathy with her. We thank our Maryknoll brother, Fr. Steve DeMott, for coming to join in our Eucharistic celebration of the Resurrection. We are glad that Louise's time of suffering is over and she now enjoys the fullness of God's love where it is her time to laugh and dance.