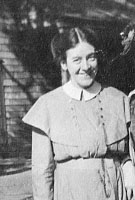 Sister Mary Louise Wholean, MM
Born: November 14, 1882
Entered: January 6, 1912
Died: February 19, 1917
Mary Louise Wholean, one of the first of the Teresians to come to Hawthorne and serve the newly formed Catholic Foreign Mission Society of America,  has died at St. Teresa's house on February 19, 1917 after a long and painful illness.
Mary Louise Wholean was born and reared in St. Mary's Parish, Westfield, Massachusetts on November 14, 1882. Her parents were Michael Edward Wholean and Margaret Augusta Keefe. She had one brother George. She was valedictorian of her class at Westfield High School and graduated from Wellesley College with high honors. After college she taught at high schools in Pottstown and Westchester, Pennsylvania.  She also taught in her native town of Westfield, Massachusetts.
Her interest in mission developed at Wellesley as she observed the Protestant Student Volunteer Movement and also hearing a talk in So. Natick, MA given by Fr. James A. Walsh, then director of the Propagation of the Faith in Boston. Her enthusiasm was also stimulated by reading the life of Blessed Theophane Venard.
Shortly after the organizers of Maryknoll returned from Rome, they received an inquiry from Mary Louise asking if she could serve the cause of foreign missions. Soon after two other women applied to help in some way. The applications were accepted and the feast of the Epiphany in 1912 after a retreat at the Cenacle Convent in New York, the three women made their way to a little rented house in Hawthorne, New York to start their work. She took the name Sister Mary Xavier but died before the group had attained canonical status and were permitted to take religious vows.
Sister Mary Xavier Wholean was the diarist for the "secretaries" later the Teresians from January 6, 1912 until December 21, 1916.  The diary chronicles their early days in Hawthorne, NY. It is said that she was not at all adept at household tasks because her schooling had taken precedence. Fr. Walsh relied greatly on her literary ability with the "Field Afar" magazine which she was faithful to until her last illness.
Father James A. Walsh, Superior of Maryknoll preached the eulogy for Sister Mary Xavier. She was buried at St. Augustine's cemetery in Ossining, NY because there was no cemetery established at Maryknoll. Her remains were transferred to the Maryknoll Cemetery in May 1925.
A statue of Our Lady was erected on Maryknoll Grounds in memory of Sister Mary Xavier Wholean. The inscription reads "As a memorial to Sister Mary Xavier (Mary Louise Wholean, A.B.), who died at Maryknoll, February 19, 1917, this statue was presented by the Maryknoll Circles of Westfield, Massachusetts."