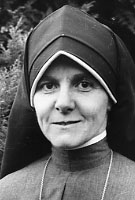 Sister Mary Lynch, MM
Born: November 19, 1895
Entered: February 2, 1923
Died: January 8, 1965
Sister Mary died peacefully about 7:15 last evening, January 8.
Sister Mary (Mary Elizabeth Lynch) was born in Lowell, Massachusetts, November 19, 1895. She entered Maryknoll on February 2, 1923 and was professed on April 30, 1925. Sister's frail health over the years in no way deterred her from conscientious preparation for her work and devoted service at the Venard, Los Angeles, and the Motherhouse where she worked in Mother Mary Joseph's office for a time. In 1944 Sister was assigned to St. Anthony of Padua Convent in the Bronx, and was there until 1960, when she returned to the West Coast; first to Los Angeles and then to San Juan Capistrano, her last mission assignment. After becoming seriously ill she came home to Bethany, arriving on March 7, 1964.
Sister's body will be laid to rest in our own cemetery on Monday, following the Requiem Mass in Bethany Chapel. Monsignor Russell of St. Anthony's Church in the Bronx, has asked to be celebrant.