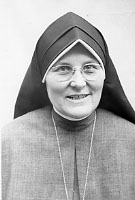 Sister Mary Martina Bridgeman, MM
Born: September 30, 1899
Entered: December 31, 1922
Died: July 20, 1970
To those of you who had not heard of Sister Mary Martina's surgery at Los Angeles a week or so ago, the news of her death will come as a great shock. She appeared to be recovering well. However, on Friday, July 17, there was a sudden change and Sister's condition became critical. Sister died at 3 o'clock in the morning on Monday, July 20 at Queen of the Angels Hospital. Sister Rita Miriam was with Sister until the end.
Sister Mary Martina Bridgeman was born September 30, 1899 at Newfoundland. She came to Boston in 1918, and having had teacher training at Littledale College in Newfoundland, she had no problem in obtaining a teaching position in the City of Boston. She taught there for three years before entering Maryknoll, December 31, 1922. Soon after profession, April 30, 1925, Sister received her first mission assignment to Los Angeles. It was with the Japanese of Los Angeles that she began her mission life, which was to reach its fulfillment in the same mission forty-five years later.
The intervening years were spent as follows: the West Coast, 1925-1946; Middle America, 1946-1949; Chicago, 1949-1952; Middle America, 1952-1964; Japan, 1964-1967; West Coast, 1967. During 1968-1969, Sister Mary Martina spent about a year assisting at the National Secretariat of the Conference of Major Religious Superiors' of Women, in Washington, D. C. Each mission has been graced by her devotion to the people, her love for her Sisters and by her fidelity to her Maryknoll vocation which she lived out in selfless kindness for all. During these years she carried the responsibility of Regional Superior on the West Coast, in Middle America and in Japan.
It seems fitting that Sister's life ended in Los Angeles, where the fruit of her twenty-one years is so evident. The "children" of the Home, so dear to her in the late 1920's and 1930's are now leading citizens and a great credit to Sister's influence. She will be mourned by countless Japanese in Los Angeles – and by people who have known and loved her wherever she has been.
The Mass of the Resurrection will be celebrated on Thursday, July 23, with her Sisters at Monrovia, followed by burial at Holy Cross Cemetery, Los Angeles. Let us continue to remember Sister in the Sacrifice of the Eucharist and in special prayers for our departed.