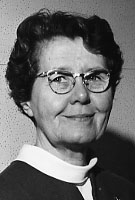 Sister Mary McCormick, MM
Born: December 10, 1914
Entered: June 9, 1935
Died: January 7, 2011
"His mother (Mary) stored up all these things in her heart." Lk. 2:52. These words can easily describe Sister Mary McCormick's 75 years as a Maryknoll Sister. Mary died peacefully on January 7, 2011 after a short illness in Residential Care III. Mary was 96 years old.
Sister Mary Angeline McCormick was born on December 10, 1914 in Caledonia, Minnesota to Rose (McDonald) and Matthew McCormick. She had two sisters and four brothers.
She graduated from Loretto High School in Caledonia in 1931. She then studied at La Crosse State Teachers College in La Crosse, Wisconsin for two years, after which she taught for two years. Later Mary received a B.E. in Education from Maryknoll Teachers College in 1948. She also received a Diocesan Teacher's Certificate from the Catholic School Board of the Archdiocese of New York in 1948.
Mary entered Maryknoll on June 9, 1935 from St. John's Parish in Caledonia. At her Reception she received the name Sister Rose Matthew, which she used until 1970. She made her First Profession of Vows on January 6, 1938 at Maryknoll, New York and her Final Profession of Vows on January 6, 1941 in Malabon, Philippines.
Her first assignment was to the Philippines in 1938 where she taught at St. James Academy in Malabon until 1942 when she was interned in a camp at Los Banos by the Japanese, along with other Maryknoll Sisters and numerous expatriates living in the Philippines during World War II. The prisoners in the camp were rescued by the U.S. 11th Airborne Division on February 23, 1945 and Mary was repatriated to the United States. For many years after that, some members of the 11th Airborne Division and the Sisters would gather periodically to share memories of those years of hardship. In an interview in February, 1995, Mary stated that, "Just the fact that we had each other was a time of great grace. We had no mail, no gifts, no food, but it was my happiest Christmas. The more you empty your life, the more God fills it." Mary was the last Maryknoll Sister survivor of that group.
Sister Mary spent the next several years in short term assignments mostly in teaching grade school in St. Anthony of Padua School in the Bronx, NYC, from 1945-1946; in Visitation School in St. Louis, Missouri, 1946-1947; in Transfiguration School in NYC Chinatown, 1948-1949. She then worked as a Catechetical Instructor in Stockton, California, 1949-1951 and taught in St. Ann's School in St. Louis, Missouri, 1951-1952. Following these assignments, she served as Principal at St. Martin de Porres School, in Tucson, Arizona from 1952-1955 and taught at the Old Mission School in San Juan Capistrano, California, 1955-1958. She later returned to Stockton, California where she did Catechetical Teaching Training and Supervision from 1958-1963.
Her work in Maryknoll Publications from 1963 to 1969 began a new phase of ministry for Mary. She loved writing and over the years she authored four books to be used in religious education: Parents Guide to Religious Education, Global Mission of God's People, Philippine Happenings and My Care and Share Book. She also wrote scripts for filmstrips and records. To obtain material for mission education projects, Mary received a special assignment to Japan in 1970 and two years later she was officially assigned to the Japan Region. Two of her publications, "Hello Japan" and "Hello America," were used as English teaching materials for young students. She lived in Kyoto and for a period in Kobe, where she taught at Kansai University, did counseling work and taught English in various companies.
Mary appreciated the culture of Japan and expressed this love through her oil paintings and "sumie" or charcoal drawings, some of which decorated the Matsugasaki convent. Her artistic holiday arrangements were enjoyed by all. Mary tried to do as much as she could to assist the local Church. In her adult English class discussions in Kyoto, she would readily bring in scriptural topics or Christian values. Mary had a very good rapport with her students. She enjoyed editing an English diocesan newsletter and she especially looked forward to tutoring a Japanese priest, so that he could study abroad. During 1979 and 1980 she worked on writing a history of the Japan mission, which was called, "Japan Journal of the Maryknoll Sisters to June 1981."
Mary was a gentle and relaxing presence in the Matsugasaki community in Kyoto. Sometimes in the evenings after class, she would watch the sumo tournaments on TV and get as excited as the others did. She generously volunteered for all kinds of duties in the house and was always willing to help on the various committees in the Region. From 1973 to 1975 she was the Research and Planning member of the Regional Governing Board.
After her last Renewal, Mary decided to retire at the Center in 1995. As her health declined Mary transferred to the Eden Community in 2003. She faithfully went to Morning Side House, a day care center, and participated in community events whenever she could. Her prayer ministry was the Maryknoll Affiliates. The kind care of Mary by the Maryknoll Residential Care staff is greatly appreciated.
We are happy to welcome Sister Mary's family and friends who are here with us today. We also welcome and thank Maryknoll Father Emile Dumas who will preside at today's Liturgy of Christian Burial.