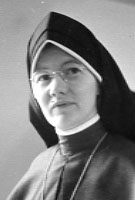 Sister Mary McGovern, MM
Born: May 2, 1905
Entered: December 29, 1935
Died: July 25, 1988
On Monday, July 25, at 10:05 A.M., Sister Mary McGovern died at our Maryknoll Nursing Home. We give thanks today in a special way for Sister Mary's life, so generously shared with her family, her Community and with the many persons she came into contact during her 52 years in mission.
Mary was the second child born to Catherine (Diver) and Michael McGovern, on May 2, 1905 in Clydebank, Scotland. Her father had left the family farm in Ireland, found work as a metal polisher in Scotland and married a local girl. Two sons and two other daughters were born into the deeply religious family that settled in the close knit village of Hardgate. The secure, happy rhythm of life was cut short abruptly when first the father died in 1913 and the mother 6 years later. Mary, just 14, took on the responsibility of raising the other children.
Mary's younger sister, Anne, has given us some idea of what life was like in those years: Mary is described as totally generous in her service to the family, scrupulously fair and fun-loving, with a good sense of humor that carried them through many difficult moments. Unable to study beyond grammar school, Mary educated herself by reading avidly despite the many demands on her tine. The atmosphere in the home must have been attractive, for, as Anne relates, "Everyone made a path to our house – it was never empty – and every night we had a 'sing-along'." The most frequent topic of conversation was about classical music, especially Opera and the most thrilling experiences 'were the few times when enough money could be saved for the trip to the Glasgow Opera Theater. Anne and Mary walked to the next village daily for Mass and when the chores were done went hiking on the Moors.
One of the books Mary read was the life of Father Damien of Molokai. This stimulated the desire felt from early childhood to give herself to God and focused her dream to do that as a missioner. Mary was 25 by the time the other children were able to move out on their own. Anne preceded her to the U.S., and a year later Mary, her sister Sadie and brother George emigrated, too, arriving in New York at the height of the Depression, in 1930. Mary studied at Business School and went to work for $17.00 a week. Two years later she first applied to Maryknoll, but family responsibilities delayed her entrance. She wrote to Mother Mary Joseph, "I knew what I wished to do, but Oh! it seemed impossible. There are times when I laugh at my own  presumption. Nevertheless, I will realize my dream." The dream came true on the 29th of December, 1935. The next month Anne entered the Poor Clare Monastery in New York.
The older postulant with the beguiling Scottish burr threw herself into life at Maryknoll with the same determination and commitment to detail that characterized her years as head of the family. It is understandable that her propensity for giving unequivocal directions during work times would come to the attention of the Postulant Mistress, who happily understood the origin of this habit. Mary dedicated herself to modify this trait. At Reception she received the name "Sister Damien Marie"; pronounced her First Vows in 1938 and made her Final Profession in 1941. During this time she worked at Bethany Guest House and did Field Afar correspondence.
Sister was assigned to care for the sick in Monrovia, then catechetical work in San Juan Bautista, and Seattle, followed by several years service in the Development Department back at Maryknoll. Sister Damien Marie was 56 years old when, to her surprise and delight, she heard her name on the assignment list for Africa. With her customary willingness to take up a challenge she joyfully adapted to her new environment in Tanzania – called Tanganyika then – first helping to set up an Institute for Commercial Studies in Shinyanga and then at Marian Secondary School, Morogoro, where she worked as secretary, bursar, religion teacher and drama coach. Sister had a great love for the students and they for her. Preparing the plays created a special bond between them. Relatively few women were able to receive a secondary education, so it was a real source of pride and satisfaction to hear later that former Tanzanian students had attained influential positions on the national, regional and local levels.
After furlough in 1969, Sister Damien Marie went to work in a secondary school opened near Mombasa in Kinango, Kenya. A new arrival to the mission described Sister's contagious enthusiasm as she was taken to see the new school. It was an unfinished, loosely constructed building of crude cement blocks, a tin roof, no window frames and rough student benches – but Sister was very proud of it. Her years in Africa were especially precious to her.
When the government took over the school, Sister accepted a request to return to the Development Department at the Center. The Regional Coordinator wrote of her at that time, "Sister has a tremendous capacity to adapt to new situations, is very competent professionally and has given wonderful service in Africa. She will be a great loss." She always amazed people with her energy.
Two periods working in the Motherhouse Direct Mail Office were interspersed with catechetical ministry in Guadalupe, California and two years as Regional secretary in Hawaii. Sister Mary – she had resumed her baptismal name – had her last furlough in 1983, when she was 78. She made a bittersweet journey to her "Bonnie Scotland," and then made a 30-day retreat, took several workshops and participated in the Mission Institute. When her sister Anne remarked that she wished she, too, had such energy, Sister Mary told her, "Ask God to put a tiger in your tank."
We express our sympathy to Sister Mary's family and friends here and in Scotland. We welcome the members of Sister Anne's community and other friends who are able to be with us this morning; and we welcome our Maryknoll brother, Father Gerry McCrane, and a friend of the family, Father Ed Hogan from the Diocese of Brooklyn, who will celebrate with us this Liturgy of the Resurrection.