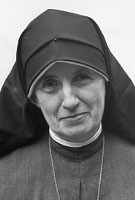 Sister Mary Melanie Breen, MM
Born: May 1, 1898
Entered: October 18, 1925
Died: June 4, 1988
Sister Mary Melanie Breen died at 4:20 A.M. in the Maryknoll Nursing Home on June 4, 1988. Sister had been resident there since September of 1984. She was talking with the night nurse only minutes before she quickly and peacefully died.
Mary Grace Breen was born on May 1, 1898 in Lawrence, Massachusetts. She was one of three daughters born to James and Margaret Connors Breen. She kept a close bond of friendship with her sisters, one of whom – Sister Regina – is a Sister of St. Joseph living in Wisconsin. Grace graduated from St. Agnes Grammar School, and after completing two years at St. Augustine's High School, worked as a telephone operator. She continued this work until she applied to Maryknoll in 1925. Grace had done a lot of reading about the missions and wanted to become a religious missionary "for the greater love of and service to God." Entering Maryknoll on October 18, 1925, she received the name "Sister Mary Melanie" at Reception. Sister made her first profession on April 30, 1928 and final profession on April 30, 1931.
Sister Melanie's assignments took her from the Center to the Venard, Los Altos, Mountain View, Valley Park and Monrovia. Wherever she was, she carefully attended to the duties given her: The Field Afar, the switchboard, the kitchen. But it is certainly the Valley Park Novitiate where so many remember so much about this woman. It is fair to say that Sister Melanie is the stuff of which legends are made. Assigned to the Valley Park Novitiate in 1947, she remained there 18 years. For the postulants and novices who were daily entrusted to her careful, watchful eye, the kitchen was a "special" training center! Such directives as, "Get the professed pickles; the colander not the calendar; get your hot body out of my cold ice-box; if it isn't in the Boston Cook Book it doesn't deserve to be made." And frequently, fusion or not, at 3:00 P.M., "Come sit and have tea." These are only a few of the wonderful memories and images that are conjured up when we think of this spunky, caring woman. Long before modern psychologists coined the phrase "tough love", Sister Melanie knew well what it meant in the training of these young woman who came to be missioners. Though neither a postulant or novice mistress, she was clearly involved in the formation of so many Maryknoll Sisters. The massage of constancy, careful attendance to duty, fidelity, humor came through in her faithfulness to the moment. Even in the Nursing Home they said of her, "She accepted things as they came and with great courage and spirit which helped her to manage the occasional setbacks."
And so today we thank this woman, Sister Melanie, who touched so many of our lives. With fond memories we will recall her often for what she gave to us.
After her death, the following poem by Maryknoll Sister Joan Metzner, was found in her Office Book:
MARY
When I call to you, guide my footsteps
When I think of you, dispel my fears
When I cry out to you, receive the outpourings
of my heart.
And when I name you in faith, remind me that
you are my ever tender Mother
and I am your child.
Sister Melanie's last audible sound was only a gentle cry. Our Blessed Mother heard that sigh and helped her to meet the God whom she served so well these many years.
We extend our sympathy to Sister's family.
We welcome Father Charles Murray, M.M., from Peru who will celebrate with us this Eucharistic Liturgy of remembrance and thanksgiving.