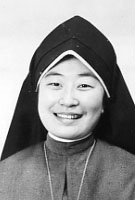 Sister Mary Nagashima, MM
Born: October 24, 1932
Entered: August 28, 1954
Died: January 9, 2002
"I have got my leave. Bid me farewell, my sisters, brothers.
I bow to you all and take my departure.
Here, I give back the keys of my door – and I give up all claims to my house.
I only ask for last kind words from you.
We were neighbors for long, but I received more than I could give
Now the day has dawned and I am ready for my journey."
– Tagore
Mary's journey from life to New Life began at 6:15 p.m. on Wednesday, January 9, 2002, at Phelps Memorial Hospital in Sleepy Hollow, NY. She was anointed in the afternoon by two Maryknoll Father friends and with her as she died were Sisters Cheryl Allam, Camille Marie Black and Irene Solzbacher.
Mary Yachiyo Nagashima was born on October 24, 1932, in Los Angeles, California, the first of two children born to Kosuke and Masaye Watanabe Nagashima. Two years later her brother was born. Mary's parents, Japanese by birth, came to the United States at separate times, met and married here. Her father was in marketing and her mother a nurse and midwife. Their spacious home in Los Angeles often received recovering patients and Japanese students from the university. Life seemed good and Mary proceeded into kindergarten at Maryknoll School in Los Angeles.
With the Second World War came the wrenching separation from home, neighborhood, profession, school and all that was familiar. The family was interned in 1942 at the Pomona California Assembly Center for four months and then moved to Wyoming where, for two years, they lived at the Heart Mountain Relocation Center. It was here that the family met Maryknoll Father Henry J. Felsecher. Mary made friends with twin Japanese-Portugese girls who were studying to make their First Communion. Fascinated, Mary talked to her parents who gave her permission to be baptized and Father Felsecher arranged to take her from the camp to the local parish of St. Barbara's in Powell, WY where she was baptized in 1943.
In that same year the family was moved to Tule Lake, California, where they were interned in the Tule Lake Segregation Center until 1944. During this time Mary and the family came to know Maryknoll Society members Father Joseph A. Hunt and Brother James Charles Fowley and our Sister Susanna Hayashi. Though only eleven, Mary played the organ in Church.
Yet again the family was to be moved, this time in 1944 to the Alien Internment Camp in Crystal City, Texas. Here, both German and Japanese internees were held, and later Mary was to learn that those chosen to live in that camp were the most suspect! She remembered clearly from that camp the music, singing and dancing. Finally in 1945 the family was free, but their home and belongings had been confiscated. Mr. and Mrs. Nagashima decided to return with the children to Japan.
Food was scarce in Japan; Mary would nibble on the edges of the bread her mother sent her to bring back. There was no punishment for this, everyone was hungry. Both children lacked a strong foundation in Japanese and Mr. Nagashima made arrangements for them to attend private international schools. It was from the International School of the Sacred Heart in Tokyo that Mary graduated from high school in 1951. While in that school she became interested in Maryknoll because of a book exhibit featuring our work in Manchuria and China. She applied to enter Maryknoll in 1951 but was told the Mother Mary Joseph was traveling! After two years of serving as a receptionist and teaching catechetics on a U.S. base, Mary became an Aspirant with our Sisters in Kyoto. On August 28, 1954, she entered Maryknoll at our Center, spent her Canonical year at Topsfield, Massachusetts, and was professed at Maryknoll, New York, on March 7, 1957. She was assigned to Japan and finally Professed there on March 7, 1963.
Her first years in Japan were spent as a Pastoral Worker, as well as teaching Catechetics and English. She then returned to Maryknoll to study and received a Bachelors of Science in Education from Mary Rogers College in 1970. In 1977 she earned a Masters in Education with a specialty in teaching English as a second language. She also spent two summers at Manhattanville College of the Sacred Heart studying choir technique, liturgical singing and Gregorian chant.
Mary returned to Japan and Sophia University to teach English. However, in 1992 she worked briefly in Bangkok with refugees from Vietnam, Cambodia and Laos. On her return to Japan she continued teaching at Sophia and worked with migrant workers: Filipinos, Malaysians and Nigerians. To all of them she taught survival Japanese. This work continued until her retirement and acceptance in 1996 of a Congregational Services position as Director of Pastoral Care on the fourth floor of Maryknoll Residential Care.
Who is this person, our Sister Mary Nagashima? The above tells the what. Reflections from her Japan Sisters and others tell the who. Mary was known as a diminutive, deeply spiritual, dearly loved and caring woman. The needs of others were of primary concern to her. When her illness was determined to be very serious, she asked to transfer from Japan to the Rogers Community to spare the Sisters in Japan worry and also to enter as fully as possible into life here for as long as she needed to be here. Her work on the Fourth Floor was to finish December 31, 2001. Her Renewal plans were in place and she was eager to gain knowledge of AIDS ministry on the way back to Japan. But she quickly put all of that aside, further tidied an already neat room, wrote to everyone, said thank you to all who helped in any way and moved graciously into the suffering she knew awaited her. Lady-like always, gutsy yet gracious and so kind, she possessed wonderful humor. Father Jeremiah Burr, Vicar General of the Maryknoll Fathers, wrote on learning of her death, "Sister Mary left a great impression on all of the Fathers that celebrated mass on the Fourth Floor the last several years. She was loved, admired and will be missed."
We are grateful to all who cared for her on the Third and Fourth floors. Mary was animated by the attention given her professionally and by her friends.
Today it gives us great joy and solace to have with us her beloved brother and his wife, friends and Maryknoll Fathers who worked with Mary in Japan, our Maryknoll Brothers, Associate Lay Missioners and Affiliates. We welcome you all. And we also welcome and thank Maryknoll Fathers Thomas McDonnell, our celebrant, and Richard Czajkoski, our concelebrant, for this Liturgy of Resurrection.