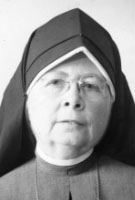 Sister Mary Pieta Kirby, MM
Born: November 24, 1900
Entered: September 24, 1924
Died: December 31, 2000
Today, the day before our Maryknoll Sisters 89th Foundation Day anniversary, we gather to remember and to celebrate, with hearts filled with gratitude, the life of Sister Mary Pieta Kirby. Sister Pieta, at the age of one hundred, died peacefully shortly before midnight on New Year's Eve, December 31, 2000, at Phelps Memorial Hospital, Sleepy Hollow, NY.
Sister Pieta was one of our living links to the early days of Maryknoll. She entered Maryknoll in 1924 when the Congregation had been recognized officially for only four years, and for seventy-six years lovingly and wholeheartedly blessed us with her presence. Less than two months ago, on November 24th, Sister also gifted us with the joy of being the first Maryknoller ever to reach the centenary age of one hundred. At her request, her birthday celebration was not to be "too exciting" so Mass was celebrated before lunch in the Residential Care chapel followed by a birthday party later in the afternoon at which she blew out the candles on her cake symbolizing her one hundred years of life. She then enjoyed the ice cream cake with her friends and shared with them her life story.
"My parents were Dennis and Elizabeth Locke Kirby. I was born November 24, 1900 and they baptized me Mary Margaret Ann. My father had a good job as a surveyor where we lived in Chatham, British Columbia. (I'm Canadian, of course!) My mother died of tuberculosis when she was just twenty-four years old, and I was three. I can still remember her. I went to live with my grandmother, just down the street. I was very happy with my grandmother. Later, my father remarried and brought me home. My stepmother was very good to me. Her name was Elizabeth, like my own mother. I had a brother and a sister after that. They were John and Zita. We always got The Field Afar. That's what they used to call the Maryknoll magazine. I loved to read that magazine. I wanted to be a missioner. I wanted to go to China!
"Two years after I graduated from nursing school at St. Margaret's Hospital in Dorchester, Massachusetts, I entered Maryknoll. That was September 1924. After a week, Mother Mary Joseph asked me how I was doing. I said, "Mother, I think I need a stricter order!" Mother was preparing at that time to visit our Sisters in China and she said to me, "Dear, you will be able to go to China if you're a Maryknoll Sister." After Mother returned in October from that China visitation she asked me: "How are you getting along, dear?" When I answered "Mother, I love Maryknoll" she responded, "You're the best birthday gift I could get!"
"In 1927, the Bishop in Hawaii was desperate for Maryknoll Sisters. I was in the first group assigned there. Of course I was disappointed but, in those days, we went where we were needed. I was needed to teach second and third graders! I got used to it quickly, and I loved my Hawaiian children.
In the 1930s the Maryknoll Sisters opened a tuberculosis sanatorium in Monrovia, California. I worked there as a full-time nurse. We had lots of Japanese patients and other people as well with tuberculosis and other respiratory illnesses. I still have many friends from those days.
We eventually converted the Monrovia property into our retirement center. When I was 79, I retired there, but I did home visiting every week. I was 91 years old when I needed more medical care and came back here to Maryknoll, where I started out. I love Maryknoll. I have been happy my whole life in Maryknoll!"
The above summary of Sister Pieta's personal life story is but a brief account of the love and service she has given to Maryknoll and to mission throughout her long life. She went to Monrovia from St. Ann's School in Hawaii where she was on the hospital staff and later served as Administrator and Superior. She initiated the Monrovia Maryknoll Guild and continued throughout the years to remain active with this group and kept in touch with its members. She also dedicated four years to giving specialized nursing care to Patricia Frawley, the daughter of Mr. and Mrs. Patrick Frawley who donated the Monrovia Hospital.
Sisters in Monrovia remember the time when a forest fire broke out close to the hospital with trees exploding and the light from the fire was so bright one could see enough to read in one's own bedroom. The police and firemen wanted to evacuate the patients, much to the distress of Sister Pieta. She made a promise to God to give up her afternoon cup of tea for a year if they would not evacuate the patients. Her wish was granted and she kept to her promise.
At Sister Pieta's 100th birthday Eucharistic Celebration, Father Ray Finch said, "One hundred years of life given in service is a blessing for Sister Pieta, for Maryknoll and the Church." Truly, all who have been touched by Sister Pieta's life have been blessed by her spirit of love and dedication. Her life of faithful and tireless devotion to the service of mission is an example to all of us.
Sister Pieta will surely be forever remembered as a very loving, generous and wonderful missioner, never to be forgotten.
We welcome our Maryknoll brother, Father William Coy, who will preside at this Eucharistic Liturgy of Christian Burial as we join together in thanking God for the life of our Sister Mary Pieta.