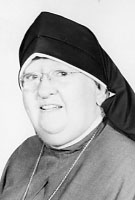 Sister Mary Raymund Carpenter, MM
Born: August 7, 1895
Entered: April 29, 1921
Died: March 4, 1979
It is with a deep sense of gratitude that we begin our celebration of the Eucharist this morning in thanksgiving to God for the life of our Sister Mary Raymund Carpenter. Death came for Sister early Sunday morning, March 4th, and she went to God as peacefully and serenely as she had lived almost 58 years of loving service in mission within our Maryknoll Community.
Sister Raymund Carpenter was born to Joseph and Jane Carpenter in East Greenwich, Rhode Island on August 7, 1895, the second of three daughters. She was baptized Amy Rose. On April 29, 1921, she entered Maryknoll and was professed on April 9, 1923; three years later, in 1926, she made her final vows in Seattle, Washington.
Sister Raymund was a gentle, loving and warmhearted person. Perhaps because she, herself, was possessed of such deep child-like faith and trust and wonderment at the whole of Gods creation, she was suited to the task of teaching the young children in the kindergartens we conducted in Seattle and Los Angeles, where she served in mission from 1924 to 1947. In 1947, Sister was assigned to the East Coast and served at Crichton house and our Maryknoll Sisters Center until 1971 when she was assigned to Monrovia. She remained there until 1977 when because of failing health, she returned to Bethany.
Sister was an expert seamstress, a talent she used effectively and creatively throughout the whole of her Maryknoll life. She was always most generous in giving of herself and her gifts of hand and heart to the service of others.
In more recent months as she began slipping ever more quietly and gently into eternity, she never lost her beautiful smile, nor the twinkle in her eyes, through which she managed to communicate her inner joy and deep appreciation of everything being done for her. Sister Raymund's fidelity to the Lord prepared her for His final call.
"Well done, good and faithful daughter…enter now into the joy of your Lord."
Join us in this Eucharistic Liturgy which will be concelebrated by Bishop Edward A. McGurkin, M.M., and Father John A. Cioppa, a member of the Maryknoll Fathers' Council.
Let each of us pray for Sister Raymund and offer the Eucharist for her peace and happiness in the Lord.