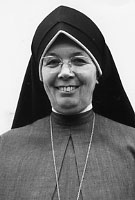 Sister Mary Redempta Coffey, MM
Born: September 8, 1902
Entered: February 2, 1922
Died: February 16, 1976
On February 16, 1976 at 6:20 in the evening, Sister Mary Redempta Coffey passed into eternal life. She had been admitted into Capitol Medical Center in Quezon City on Wednesday evening, February 11th. Prior to taking Sister to the hospital, Father Schumacher, S.J. administered the Sacrament of the Sick with the community at Quezon City in attendance.
Sister responded to the treatment in the hospital and the doctor felt her illness was clearing. Dr. Felipe assured her that she would be up and about soon. She enjoyed the daily visits of the Sisters and was fond of her two lay nurses, Rose and Jane, who were on duty with her. She was quite alert and inquired about the Sisters and a number of the lay workers whom she has known for a long time.
Thus, we were shocked on Monday to be called to Sisters' bedside to find her so critically ill. Sister was moved to the Intensive Care Unit. The hospital chaplain, a Belgian Father who had visited her daily, administered the Sacrament of the Sick while several of the Sisters were present. Sister was alert and conscious right up to the end. She greeted each of the Sisters as they went up to her bedside and, in her characteristic way, showed concern for the nurses and doctors who had to remain in the hospital so late. This called to mind Mother Mary Joseph in her own last illness.
Mary E. Coffey was born in Glens Falls, New York September 8, 1902. She was educated in St. Mary's elementary and high schools of Glens Falls. She entered Maryknoll on February 2, 1922 and made final profession of vows on April 19, 1927. She studied at Providence Hospital in Washington, D.C., and after obtaining her R.N. was assigned to the Philippines as Superintendent of Nurses at St. Paul's Hospital, Intramuros, Manila. She served at St. Paul's from 1929 when she arrived in the Philippines until 1941 when World War II intervened, and she, along with about 50 other Maryknoll Sisters, was interned at Los Banos. Sister Redempta ministered to the sick during the war, and after her release from Los Banos, re-opened St. Mary's Hall, dormitory for U.P. students. Sister Redempta was superior at St. Joseph's Hospital, Manapla, Negros Occidental from 1951 to 1957, and also at Bethany from 1961 to 1967. Sister acted as school nurse for Malabon, Dulawan, Cotabato, and most recently, for the Child Study Center at Maryknoll College, Quezon City.
Sister Redempta had been in robust health all her life. She recovered from a sudden illness, and continued to work every morning in the Child Study Center. She loved the little ones and they found her a loving and understanding "lola" (grandmother). Illness did not suit one who had always enjoyed such good health, and right up to the end she could not understand "why I am so sick." She was deeply loved by the Sisters and they found in her a friend of understanding heart and joyful humor. She loved Maryknoll and moved gracefully with the changes in our  congregation. She was heard to say, "I don't understand all these changes, and I don't need them for myself, but I think the younger Sisters should be able to do new things." She was for all, young and not so young, a support in prayer, in companionship, in good times and in hard times. She always contributed to the building up of all with whom she came in contact. It was fitting that so many Sisters could be with her during her last hours.
Here indeed was one of the great women of Maryknoll. Hers was the spirit and heart, broad and deep, that built and nurtured our community through the years since its founding and down to the present time. We will miss her presence among us and her strong support, but we rejoice that she is with the Lord whom she loved dearly and served in single-hearted faithfulness all her life.
"Who shall find a valiant woman –
Far and from the uttermost coasts is the price of her."
Please remember Sister Mary Redempta in your prayers and have the sacrifice of the Mass offered for her.