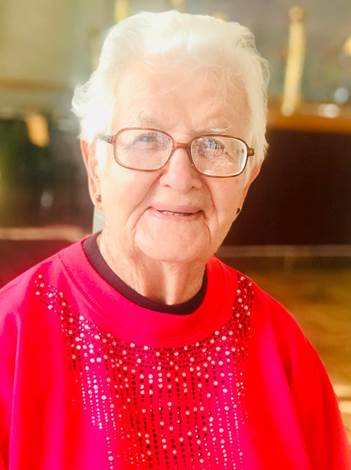 Sister Mary Reese, MM
Born: December 8, 1922
Entered: October 5, 1946
Died: August 17, 2023
On August 17, 2023, at 4:35 am, in our Maryknoll Sisters Home Care Mary received the fullness of blessings. Mary reached the zenith of 100 years and was a Maryknoll Sister for 77 years. We can almost see Mary glowing with delight as she danced through those pearly gates now opened to receive her. "You are blessed Mary, good and faithful servant. Enter into the fullness of life everlasting."
Mary Catherine Reese was born in Wilmington, Delaware on Dec 8, 1922, to Elizabeth Conway Reese and James M. Reese. She was the second of seven children. Her three brothers, Charles, James, and Thomas were ordained priests and predeceased her. So have her sisters Betty, Catherine, and Cecilia. Her dear sisters leave behind many children, grandchildren, and even great-grandchildren. This lovely and religious family was devoted to Mary and were frequent visitors, even to her last days.
Mary's family lived in St. Ann's Parish, Wilmington, DE. Mary was baptized there and attended St. Ann's Parish School, finishing 8th grade in 1936. She went on to Ursuline Academy High School from which she graduated in 1940. In February 2001, Mary was awarded with the Distinguished Alumnae Hall of Fame as an outstanding graduate. She pursued her life ambition to become a nurse, graduating from St. Francis School of Nursing (1943) in Wilmington, DE with an RN and a Diploma in Nursing. Mary went on to study at Catholic University in Nursing Education in 1945.  This enabled her to join the Army Nurse Corps in March 1945 serving honorably as a First Lieutenant in the Pacific until August 1946.  During this time, she received three distinguished medals.
That very year, in October, Mary felt the call to join Maryknoll Sisters and entered with 126 young women, called humorously, "God's Group"! Mary received the religious name of Sister James Elizabeth and after her First Vows on April 6, 1949; Mary returned to Catholic University in Washington, DC, and earned a Bachelor of Science in Nursing Education. She then went on to receive a Certificate in Midwifery at the Catholic Institute in Santa Fe, New Mexico run by the Medical Mission Sisters. She was all set for her mission assignment! However, in 1952, when Mother Mary Joseph, Foundress of Maryknoll Sisters, fell ill, Mary was assigned as one of the nurses to care for her. This led to a life-long friendship between Mary and Mother Mary Joseph.
Upon finally receiving her assignment to the African Region, Kowak Mission in then Tanganyika (1953), Mary wrote, "God made me adventurous by nature. I am not easily frightened, and I love traveling and helping people. All of this makes me suitable for mission work". Mary set off with Sr. Nuncia St. Pierre in October. After spending over six weeks on the high seas, they arrived in the port city of Dar es Salaam. But it took many days of travel to arrive at their mission. Mary was put in charge of the maternity unit and immediately she began teaching the young local women midwifery, and in return, Mary learned the local language from them. This is the hallmark of Mary's entire mission life… she was an enabler! Poverty and suffering, especially of women and children, pulled at Mary's heartstrings. She wrote, "Tanzania became independent in 1961 but it is still one of the poorest countries in the world with sufferings of drought and famine because of poor rainy seasons, diseases like malaria, high mortality rate, and so many unhealthy conditions. In the areas where the need is the greatest, we can truly change things for the better. It also allows us to be the instrument of God's love performing our tasks with joy and peace. With this in mind, we will be effective witnesses of Christ's mission of love and hope."
Mary's talents were clearly visible. She was assigned to Nassa Mission in 1963 to be in charge of a large Maternity bedded dispensary, and we hear her say: "I am grateful for this opportunity over the years to have trained large numbers of Tanzanian women to be midwives and nurses." Soon, in 1967, Mary was hired at the Government Hospital in Mwanza where she felt she was working more fully with very poor and needy ones. "By caring for the weak and sick at this government Hospital I have entered fully into the healing and restorative love of God." Her gifts were recognized once again when Maryknoll opened a new hospital in Kenya in 1970 and Mary was assigned to be Director of Nurses.
When Mary's turn came in 1972 to give Congregational Service, she lovingly attended to our elderly and sick sisters at our Bethany Health Facility, N.Y. During that time, she also attended the Core Theology Program at the Maryknoll Seminary, receiving a Master's Degree in Theology in 1974.
Tanzania was deep in Mary's veins so in 1975 she responded to an invitation by Loma Linda University (CA) to join the Tanzanian National Maternal and Child Health Program serving the entire country; the task was to train Nurses in Maternal and Child Care (MCH). Mary's travels covered the whole country, and she was able to see the desperate need for this type of training. After five years of this program, MCH was included in the curriculum of training for all nursing schools in Tanzania.
Discerning what would come next; Mary enrolled in two segments of Clinical Pastoral Education Program in South Boston, MA, and received her certificate in 1980. This enabled Mary to accept an invitation as a Pastoral Agent at the Cathedral Parish in Musoma, Tanzania. There she teamed with Sr. Rosalie Lacorte and they became a dynamic duo. Mary worked in pastoral ministries with women's groups, trained Eucharistic Ministers, visited the sick in their homes, coordinated Religious Instructions, and assisted in development projects for women and young girls. Everyone knew Mary! You could see her zooming through the village dirt roads on her red Honda to visit the sick and needy.
Tanzania was hit very hard by the HIV/AIDS crisis. In 1995, Mary and Rosalie responded to the needs in and around Musoma by forming the Youth Alive Center, gathering young people, orphans, and vulnerable children, as well as assisting people living and dying with HIV/AIDS complications. The Center taught prevention and the causes of HIV/AIDS and formed support groups for men and women suffering from HIV/AIDS. They cared for over 300 orphans and children born to HIV/AIDS parents with food, clothing, and education. Income projects were started so all activities could be self-sufficient and sustainable into the future. In 2008, The Youth Alive Center changed its name to an all-embracing Community Alive Center. It continues its good work of support enabling people to cope and to live with hope.
With so many people dying from complications of AIDS, the Women of Tupendane conceived a new project: to make coffins, something unheard of! With Mary and Rosalie's encouragement and enthusiasm, the women received training in carpentry and bookkeeping. This project became very successful and continues to this very day as a source of income for the women and a great service to the community.
One of the great gifts of Mary's life was relationships. While in Musoma, Mary and Rosalie became good friends with President and Mrs. Nyerere. When President Nyerere held a walk to support the UJAMAA (Family hood) policy, Mary was quick to join and, as the story goes, she even cared for his blisters along the way! Mary lived fully; she loved totally and was a loyal friend.
In 2010, after spending 57 years in Tanzania, Mary felt it was time to move on and was ready to say her farewells and return to Maryknoll, NY. In Mary's own words "During all those years I had the privilege of working in Tanzania and Kenya, I learned a great deal and did a great deal, and it was absolutely fantastic."   Mary wrote, "We came to Tanzania with God in our Hearts, and we found God here in your hearts and in your communities of faith, hope and love. We found God in the fields, the lakes, these rocks, the mountains, the birds, the night sky, and the sunrise of Tanzania. Like a mother who feeds and cares for her children, you and this land have nourished us all these years. The sunlight, the soil, the water, and the air of Tanzania are in our blood now. We have been woven into the cycle of seasons of planting and harvesting, waiting and celebrating, of life and death." (50th Anniversary of Maryknoll Sisters in Tanzania Feb. 14, 1998)
Mary was a faithful and vibrant member of the Roger's Community at our Center in New York. She kept her daily exercise routine of Zumba; she visited the sick, helped in the Development office, and many other activities. In 2016 mission called her to visit Panama where she experienced the diversity and beauty of the people and land. She even taught Zumba to the elderly at the New Life Foundation.
When Mary's illness indicated a wise move to Maryknoll Sisters' Home Care in April 2022, she embraced another phase of her mission life. "Mission is my total way of life," she said.