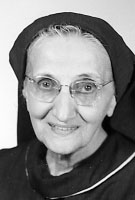 Sister Mary Ruth Riconda, MM
Born: September 22, 1901
Entered: June 3, 1921
Died: October 10, 1997
With the precious spirit of Sister Mary Ruth in our midst, we come together today to express our profound and humble gratitude for the priceless gift of living-love we have touched and have known in and through our Sister and Friend.
On October 10, 1997, just twenty minutes after midnight, our dear Sister Mary Ruth died peacefully at our Nursing Residence here at the Maryknoll Sisters Center. St. Mechtilde wrote:
God says: Do not fear the hour of your death.
For when that moment comes, I will draw my breath,
and you will come to Me, like a needle to a magnet!
After a week of Sister's experiencing the special touch of God's breath through her breath, she became that needle! She was ninety-six years of age and had been a member of the Congregation for seventy-six years–the last sixty-three of which were spent as a member of the Contemplative Community.
Sister Mary Ruth's secretarial talents were so evident in her file–everything very neatly arranged. Several papers clipped together had the notation in Sister's handwriting: "For my Funeral." The papers included a list of names of those of her immediate family and close friends whom she wished to be notified, as well as a note for the Community thanking God for her life and for all the graces and blessings received — too many to count — including the grace of belonging to our Maryknoll Family. She ended by saying: "I ask pardon and forgiveness for anything I may have said or done or even thought that might have caused pain to others. Let us continue to pray for each other until we all meet merrily in Heaven!"
In her file, also, was a neatly typed outline for an "Obituary Letter." I am basically using this outline, filling in where appropriate. Sister Ruth begins:
I was born on September 22, 1901 in Springfield, MA, of loving and devoted parents: Remolina Salamano and Tranquillino Riconda. They named me Elizabeth Desolina–Desolina after my Mother's sister and my Godmother. I was the fifth of six children: three boys and three girls. They have all gone home to God and are now waiting for me! My Father worked as a Chef in a large hotel in Holyoke. My oldest brother, Felix, died when he was six months old. My brother, Harry, was a Major League Baseball Player in the 1930's. When I was four or five years old, we moved to New York City and then to Corona, Long Island, where I attended Public Grammar School 92 in Corona and Newtown High School in Elmhurst from which I graduated in 1919.
I had no thought of the religious life, even though the "Class Prophecy" had me as a Nun! In May 1913 our Pastor asked us to try to attend Mass each day and receive Holy Communion in honor of Our Lady. I did this with some sacrifice, but the reward was greater. At the end of the month I continued to do this and gradually the thought of religious life came to me. My Father wanted me to be a teacher, so I concentrated on that. However, my Father died in August 1918, leaving my Mother with five children. After high school, I then studied typing and stenography at Parker Business School in New York City and worked as a Secretary until I entered Maryknoll on June 3, 1921.
I received the Religious Name of Sister Mary Ruth and made my first Vows on April 9, 1923 at Maryknoll, NY, and was assigned to South China, leaving for Hong Kong in September 1923. Being young, I was filled with all kinds of ideas on how to convert other people, but I soon realized that conversion begins within oneself first — and that this can happen only through prayer and God's grace.
I began to experience a deep desire for the contemplative life. Later, when the idea of our own Cloister was taking root, Mother Mary Joseph told me I would one day be part of the Cloister Community. My ministry in Hong Kong included: being Secretary to Sister Mary Paul McKenna, who was our Superior, giving French Classes to children and private English Classes; sharing responsibility with Sister Patricia Coughlin who was in charge of the indigenous Candidates. This included Meditation Classes and praying with the Candidates — both in Chinese. After eleven happy years in Hong Kong, my assignment to the Cloister came and I joined the Contemplative Community on the hilltop on August 4, 1934. I received the name Sister Mary Ruth of the Holy Infant, which has always meant very much to me.
In the late 1940's Bishop Francis Ford of Kaying, China, invited the Cloister to found a Mission Cloister in his Diocese. I was among the group that volunteered. At that time, our Sister Mary Augusta (who is now Sr. Mary Hock) gave us preliminary classes in Hakka. However, with the Communist takeover, we were unable to go, but it did whet out appetites to have a Prayer Presence overseas.
In 1969 and early 1970 we did research for a contemplative presence in our Maryknoll Regions. The results indicated that it was not feasible at that time for the Cloister to go overseas. Then, in November 1970, we had a visit by Bishop Jerome Hastrich of Gallup, NM. When he learned Maryknoll had a Contemplative group, he came to offer the Eucharist with us and to invite us to come to his Diocese. In September 1971 we began the first Contemplative Community, Our Lady of the Desert, among the Navajo People, and in November 1972, I joined the Community. The Navajo way of life, where inner harmony is a priority, was a grace for me and, I believe, the entire community. We made many friends among the Navajo people and the Church personnel. I remained at Our Lady of the Desert till we turned over our dwelling to another Contemplative group that had recently entered the Diocese. This allowed us to accept invitations to go to Guatemala and Sudan.
I was just eighty-four when I volunteered to go to Guatemala. It was a great joy and one of the significant moments of my life when I received my assignment to begin with Sisters Helen Werner and Consuela Torrecer a Contemplative Presence in Lemoa among the people of Quiche. In January 1986, we left for Guatemala via Language School in Cochabamba. In July 1987, it was necessary for me to return to the Center Contemplative Community at Maryknoll. Bishop Julio and the people of Quiche — and all of Guatemala — will always have a special place in my heart and prayer.
Thus concludes the outline of Sister Mary Ruth's personal letter about herself.
There is so much more we can say about this remarkable little woman who had such a great heart and capacity for prayer. Sister Ruth was an exceptionally focused person. Very early in the morning she would be found in chapel, sitting on a small kneeler, za-zen style, praying before the Blessed Sacrament, and practically the entire afternoon was likewise spent in prayer. During the morning work period, her spirit of mindfulness was evident in the way she gave her entire self to what she was doing, living in the presence of God and communicating the joy of this gift. Sister was also the first member of the Contemplative Community that had almost 2 years as a hermit, living in a section of the Cloister that afforded greater solitude.
Among her gifts, Sister had a propensity for languages. When she entered Maryknoll, she spoke French fluently, some Italian and could even converse in Latin! She was eager to learn Chinese when she went to Hong Kong in 1923. In Gallup, NM, having a desire to learn John's Gospel in Greek, she received the Greek New Testament and Greek Dictionary from Maryknoll Father Arthur Brown, Librarian at the Maryknoll Seminary. She memorized the Prologue of Saint John in Greek — being about seventy-five years young at the time!
It was also in Gallup that Sister Ruth began learning the guitar. She carried in her heart wherever she went that sense of discovery of the new and a willingness to learn to do things she never did before. She also had a delightful sense of humor that came forth so spontaneously and added much joy to the community.
Sister was, indeed, cherished as a woman of peace! Her embracing of God's will was most visible in the way she accepted her infirmities quietly and graciously. It was obvious the last week of Sister Ruth's life that her heart had an inner strength that far surpassed the fragile frame of her body. The gift of prayer, that leads a person to the grace of surrender and communion, is her special legacy to us.
We thank our Maryknoll Father Tom Keefe for presiding at this Eucharist. Father Tom has been a good friend of the Contemplative Community for many years, and we are grateful he is able to be with us today. I conclude with a note typed by Sister Mary Ruth which she had attached to papers for this Mass of Resurrection: "The day of my death will be the greatest Feast of my life!" We now join with you, dear Sister and Friend, in celebrating this greatest Feast of your life!