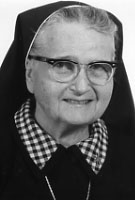 Sister Mary Sebastian Deegan, MM
Born: December 31, 1905
Entered: September 24, 1922
Died: July 14, 1996
After almost a lifetime of illness, Sister Mary Sebastian Deegan slipped away at 5:30 the morning of July 14, 1996 in the Skilled Nursing Facility. We give praise and thanks that her life of illness is over and she can enjoy eternal bliss in God's peace.
Mary Deegan was born on December 31, 1905 in New Haven, Connecticut.  When Mary entered Maryknoll on September 24, 1922 she had one brother.
The family moved from Connecticut to Los Angeles. Mary attended two years at the Immaculate Heart High School in Hollywood. She finished two more years at Maryknoll High School at the Venard in 1933, received a teaching certificate from Maryknoll Teachers College in 1936, and in June 1951, received a Bachelor of Education Diploma from Maryknoll Teachers College.
Sister Mary Sebastian made her first profession on April 30, 1925 at Maryknoll, New York and took final vows the same date in 1928 in Los Angeles. She had been assigned to California mostly Los Angeles and, in part, Mountain View and Stockton. Her mother was seriously ill before she died in 1950 and Sister Sebastian cared for her at home.
In California Sister Sebastian taught grades 3 and 4, as she did when she was assigned to Punahou, Honolulu in 1956. She was known to be especially good with problem children and able to touch their root difficulty so as to help them in a constructive way. Sister Sebastian was also known to have a keen wit and an abiding interest in people. Due to health problems, her activities were curtailed, though she generally maintained good spirits. In 1972, Sister Sebastian retired at the Punahou house in Honolulu and celebrated her Golden Jubilee the end of the same year.
In May 1979 Sister Sebastian came to the Maryknoll Nursing Home. In the beginning and while able, she was Eucharistic Minister there. In 1992 Sister Sebastian celebrated with Center members her 70th anniversary of entering Maryknoll. While physically not active, many of the staff found her easy to take care of and enjoyed being with her. We surely extend our thanks to the present and past staff for their long term kind attention and caring solicitude.
Mother Mary Joseph once said: "Our sick sanctify our Community." If we feel that Maryknoll has been blessed, we surely can attribute some of that to the suffering and sacrifice of Sister Sebastian. On the occasion of Sister Sebastian's silver jubilee in 1950, Mother Mary Joseph wrote to her in part:
"You have seen the wonderful works of God, witnessed the wiles of the devil, known joys and sorrows tempered by God's mercy, experienced disappointments and tasted the bitter sweets of suffering in mind and body. Through it all, you have given yourself as generously as circumstances allowed to the fulfillment of your vocation and so strengthen and enriched our Community life."
Truly we rejoice that Sister Sebastian's life has now turned from one of sickness to joy and rest in God. With her we offer praise to God for her life and the blessings that she helped bring on our Community through her sufferings. In that spirit we enter into our liturgy of the Resurrection with our celebrant, Maryknoll Father Joseph Towle. Let us sing and pray Alleluia!