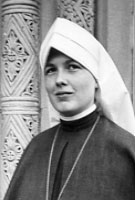 "I entered solely because I felt called by God to aid in spreading His Kingdom on earth." Sr. Mary Shannon
Indeed, Mary's mission journey to spread God's Kingdom took her to some of the most remote communities on this earth during her 68 years as a Maryknoll Sister.  At 90 years of age, Sister Mary Shannon died peacefully on October 1, 2012 in Maryknoll Sisters Residential Care.
Mary Elizabeth Shannon was born May 18, 1922 to Elizabeth (Berkley) and James F. Shannon in St. Louis, MO.  Mary and her two younger sisters, lost their mother in a car accident when Mary was six.  Raised by her father and her stepmother, Mary always took a great deal of responsibility for the family.
Upon completion of high school in 1939, Mary took courses at both the Hadley Technical School and the Dyce Business School in St. Louis. She entered the Maryknoll Sisters Congregation at Maryknoll, NY on September 6, 1944 from Nativity Parish in the Diocese of St. Louis. At her Reception, she received the Religious name of Sister Patricia James and made her First Profession of Vows at Maryknoll, NY on March 7, 1947.  She made her Final Vows on March 7, 1950, also at Maryknoll, NY.
Sister Mary's first assignment in the Field Afar bookkeeping department made full use of her wonderful business skills.  In 1951, she spent four months studying at St. Mary's Hospital in Rochester, MN. There she discovered that nursing was not her calling. In later years, however, she would incorporate teachings on health, and hygiene into all of her courses for women in rural Bolivia.  She helped in the Sisters' Valley Park Novitiate and received her assignment to the Bolivia/Peru Region in 1952.
On arriving in Cochabamba, Bolivia, Sister Mary studied Spanish and taught kindergarten. In 1954, she moved on to three years of teaching 3rd and 4th grades in the city of Cobija, in the Pando Vicariate on Bolivia's far northern border with Brazil. The next ten years found Sister Mary in Riberalta where she taught the 5th and 2nd grades at Our Lady of Carmen School and served in both the pharmacy and supervision of the kitchens at the Riberalta Hospital. During these ministries, she found opportunities for catechetical work in town and accompanied teams of women and of youth who visited communities along the winding rivers of this dense jungle area. Her river adventures included "traveling through the jungle on the back of a truck loaded with rubber or brazil nuts, or on the back of a  motorcycle."  She often found herself sleeping the night in a hammock on the open deck of a boat crowded with people, animals and freight. Through it all, she says, "I fell in love with the river people."
In both 1968 and in 1972 Sister Mary studied at the Catechetical Institute for Latin America in Manizales, Colombia.  These studies coincided with the Latin American Church's statements on the option for the poor and new roles for the laity in response to Vatican II.  It was in 1969 that she, along with Maryknollers Sister Catherine Heilig and Father John Gallagher, co-founded the Rural Pastoral Institute in Riberalta. In its 43-year history the Institute, locally known as the River Team, trained and accompanied several thousand "animators of the faith." These lay people accompany and animate the faith in hundreds of isolated rural communities. The vibrant work of the Institute continues today under the direction of Bolivian staff and clergy.
After 21 years among the her beloved people of the tropical lowlands, Sister Mary spent the next  21 years alternating between Congregational Service in the United States and ministry in the upland city of Cochabamba, Bolivia.  Her service for the Congregation included ministry as Secretary in the Congregation's Personnel Department, a number of years in Mission Education and Promotion on the West Coast and later, as Secretary to the Treasurer from 1989 to 1992.
Sister Mary's ministry in Cochabamba in some ways mirrored her greatest concerns in the lowlands.  As she had animated women in Riberalta who went out along the rivers as missioners to raise the dignity of other women, she again devoted her ministry to empowering groups of marginalized women in Cochabamba.  Having worked with the isolated rural communities of the Amazon jungles, she now turned to formation and accompaniment of Basic Christian Communities in the urban jungle of Cochabamba. Sister Mary ministered at different times in Tuparaya, and in both the Cristo Rey and Santa Ana Parishes. Her accompanying of small faith communities was so life-giving that many of her groups continue today, fulfilling the hope she expressed saying, "I want all the people I am working with in my basic Christian communities to be apostles and help in the evangelization of their own people."
Included in Sister Mary's Cochabamba ministry were two years as administrator of Casa Rosario, which at that time served as a center house for the Maryknoll Sisters of the Bolivia Region. One was always assured a warm welcome, wonderful hospitality and great food! She was affectionately known among her sisters as "Little Mother", always attentive to the needs and comforts of the Sisters.
In 1997, Sister Mary joined the Maryknoll Sisters in Monrovia, CA where she was a volunteer in Religious Education at Immaculate Conception Parish. When her failing health necessitated her assignment to the Center-Eden Community in 2007, the Sisters in Monrovia noted that they would sorely miss "Mary's great sense of humor and ready smile".  Sister Mary continued in Prayer Ministry for Bolivia until her death.
We rejoice in the beautiful missionary life of our Sister Mary Shannon as we celebrate this Liturgy of Christian Burial with our Maryknoll brother, Fr. Ernest Lukaschek.