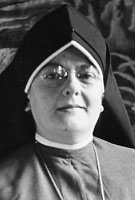 Sister Mary St. Hugh McGettigan, MM
Born: November 27, 1905
Entered: April 5, 1930
Died: June 22, 1979
It seems very appropriate that the Lord called Sister St. Hugh McGettigan to Himself on Friday, June 22nd, the Feast of the Sacred Heart – a feast which was very special to her.
Catherine McGettigan was born on November 27, 1905 in St. Johns, Newfoundland, one of seven children, whose parents were Anastasia and Matthew McGettigan. She entered Maryknoll on April 5, 1930, and at Reception received the name "Sister Mary St. Hugh." Sister made her First Profession on January 6, 1933 at Maryknoll, New York, and pronounced her Final Vows three years later in Los Angeles.
From 1933 to 1953 she served in our several houses on the West Coast where she was involved in catechetical work and kindergarten teaching. In 1953 she was assigned to Hawaii where she continued catechetical work and served also as housekeeper.
Sister St. Hugh was very definitely a person-oriented woman; always outgoing and interested in others, affable, and inspiring confidence in all whom she met. In speaking to the many Sisters who knew her well, all mentioned her great quality of service to others – expressed particularly through the culinary arts in which she excelled. Often she would seek out the ingredients to make a special dish for someone – simply because she knew the other person would like it.
Sister St. Hugh had other talents which were evident in the beautiful handwork and varied crafts that she produced, both for gifts and for sale in our International Shop and Community bazaars. She was always most generous in sharing her knowledge and her skills with others.
Sister's tenderness and love for children were shown in her disciplined catechetical and kindergarten classes where she was loved by those whom she taught. Of all the ministries to which she devoted her gifted mind and talented hands, catechetics remained her special love.
Throughout her life, Sister St. Hugh suffered many illnesses; but she was never one to be discouraged by them. In 1971, because there was need of specialized health care for her, Sister was assigned to Bethany; and in 1978 she came to The Center as a member of the Nursing Home. In April and May of this year, Sister became seriously ill and was confined for a time in Phelps Memorial Hospital. Her strong spirit, however, brought her through that crisis and she returned to Maryknoll eager to begin the work of gilding the wood roses for the corsages which, annually, she prepared for our Golden Jubilarians. All of us who visited with her came away inspired by the depth of her courage and joyfulness in the midst of her suffering.
On the day of Sister St. Hugh's death, she attended Mass for the first time since her recent hospitalization. The Second Reading of the Liturgy for that day – from the Letter of St. Paul to the Ephesians – very well summarizes Sister St. Hugh's commitment to mission: "To me this grace was given to preach to the Gentiles, the unsearchable riches of Christ, and to make all men see what is the plan of the mystery hidden for ages in God, Who created all things."
We extend our deepest sympathy to Sister St. Hugh's family.
The Mass of the Resurrection this morning is being concelebrated by Father Hugh McGettigan, assisted by Fathers John and Dermott McGettigan, and two Maryknoll Fathers, John K. Halbert, and John Patrick Meehan.