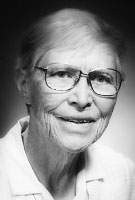 Sister Mary Therese Connolly, MM
Born: September 5, 1927
Entered: October 5, 1946
Died: October 4, 2009
In her living will Sister Mary Therese Connolly wrote:
"Free acceptance of one's own dying is part of our Christian heritage, part of the coming of the Kingdom. When life situations of diminishment, accident, or violence move in on us, we are at a point in time called to move forward to meet death, to bear witness that we believe our Saviour lives."
In the very early hours of the morning of October 4, 2009, Sister Mary Therese Connolly met death quietly and peacefully in the Maryknoll Sisters Residential Care Facility. She had been a Maryknoll Sister for 63 years.
Mary Therese was born on September 5, 1927, to Thomas and Mary T. (Kenny) Connolly in Jackson Heights, NY. She had a brother, Thomas, and two sisters, Margaret Kershaw and Anne Dineen.
Following graduation from Bishop McDonnell Memorial High School in Brooklyn in 1945, Mary Therese pursued secretarial training at Dominican Commercial School in Jamaica, NY, and on October 5, 1946, she entered the Maryknoll Sisters Congregation from Blessed Sacrament Parish in Jackson Heights, NY. At Reception, she took the religious name of Sister Marie Thomas. On April 6, 1949, she made her First Profession of Vows at the Maryknoll Motherhouse in New York where, on the same day three years later, she also pronounced her Final Vows.
Following First Profession, Sister Mary Therese was assigned to mission in the South China Region and began two years of Mandarin Chinese language studies at Yale University. Due to the situation in China at the time, she was subsequently assigned to pastoral ministry among the Chinese people of Transfiguration Parish in New York City. Sister Mary Therese was to continue in mission among the Chinese people for the next 40 years. In 1954 she finally left for Hong Kong where she did an additional two years of Cantonese Chinese language study in Macau and Hong Kong. In 1956, Sister was assigned as a pastoral minister in the King's Park Refugee Resettlement Area. There for the ensuing ten years she was engaged in religious education programs for adults and children, and did home visiting to the people living in shacks and shanties all over the Kowloon hillsides. She also supervised women earning their living by doing embroidery work, while also lending her skills to part-time secretarial work at the Maryknoll Sisters' Regional office.
In 1965 Sister Mary Therese was transferred to the Taiwan area of the South China Region and assigned to the Miaoli Deanery in the HsinChu Diocese. She served as Director of a Hostel for women high school students and also continued doing pastoral work in the local parish.
In 1970 Sister returned to Maryknoll, NY to complete studies for her B.A. degree at Mary Rogers College. In 1973, she returned to Taiwan where once again she was engaged in a variety of pastoral and educational ministries among the Hakka people. She also served as chaplain for the young women in the Young Christian Worker Movement, and taught Adult Education and English to the medical staff of the local hospital. In 1976, she established a House of Prayer in a populous urban area of the capitol city of Taipei, where she also continued to do pastoral ministry and teach ESL classes.
In 1979 Sister Mary Therese returned to the Maryknoll Center and gave two years of Congregational Service. During this time she also pursued a program in CPE (Clinical Pastoral Education) in South Boston, MA. The next year she once again returned to Taiwan and resumed a variety of ministries on the East Coast of the Island, among the aboriginal peoples. In 1988 her gifts and talents for secretarial and administrative work were again engaged for the Maryknoll Fathers and Brothers Regional Superior.
Although during her latter years in Taiwan, Sister Mary Therese's health was never robust; she quietly and valiantly continued to maintain a very challenging program of ministry and service. Ultimately, health issues necessitated her return to the States in 2000. She then chose to live with a small Maryknoll Sisters' community which formed a pastoral presence at a West Haven, CT parish. In 2003 Sister Mary Therese returned to the Maryknoll Center and was later assigned to Maryknoll Residential Care IV in September 2008.
During her years of semi-retirement, she continued to give part time service in the Congregational Secretariat. Sister Connie Krautkramer, the Secretary General at that time, upon hearing of Sister Mary Therese's death, wrote immediately to the Secretariat staff saying,
"My love and hugs to each of you as you say farewell to our Mary Therese. What an inspiration she has been in so many ways, and so committed to us, the secretariat, to life… peace. Include me in the circle of prayer."
Just the mention of Mary Therese Connolly's name always elicited such spontaneous words of admiration for her gentleness, adaptability, kindness, and courageous acceptance of her sufferings. She never seemed to forget anyone she met, even if ever so briefly; and was a prodigious writer of little notes and words of appreciation for the slightest kindness or with words of encouragement and assurance of her prayer. With a childlike spirit, not unlike her patroness Therese of Lisieux, she manifested deep trust in the goodness of people; she maintained a keen interest in all that happened around her with her Irish sense of humor. She lived vibrantly engaged in a web of relationships with her extended family, including her nephews and nieces, their families, and many dear friends.
During her years in Residential Care, Sister Mary Therese chose as her Prayer Ministry Maryknoll's mission work in Taiwan and in the Sudan. She was meticulously faithful to prayer, to all her religious obligations, and deeply loyal to her Maryknoll Community. She had special devotion to Jesus Crucified and to Mary at the foot of the Cross of Jesus, whom she took as models as she endured her own sufferings. She once said,
"I fear pain and am not sure I can handle it well… Support me – but let what is happening, happen. Be with me at the foot of my cross, with Mary, God's mother, asking for God's mercy, supporting me with your own faith and hope in the coming of the Kingdom where there is no more suffering nor death."
We extend to each of you our prayerful sympathy and condolences.
We also welcome and thank our Maryknoll brother, Father John Moran, who will preside at this Eucharistic Liturgy of Christian Burial.