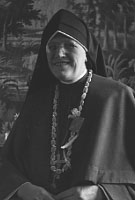 Sister Mary Thomas Bresnahan, MM
Born: December 10, 1889
Entered: August 31, 1917
Died: March 22, 1961
The Angel of Death, visited our Bethany Convent again this morning, the second time in this month of March. This time, God took unto Himself, our dear Sister Mary Thomas. Although Sister has been ill for many years, her death this morning came as somewhat of a surprise, for she had received Holy Communion before Mass, and the nurse who accompanied Father did not notice anything different about Sister at that time. Sister suddenly became quite ill and Father, who had just finished his Mass, gave Sister absolution, as the Sister-nurses sang the Salve, so, without a struggle, Sister Mary Thomas' life of suffering came to an end in Passiontide.
Sister Mary Thomas (Brigid Mary Bresnahan), was born in Lispole, County Kerry, Ireland, on December 10, 1889, attended grammar school in Lispole, and came to the United States at the age of twenty.
Previous to entering Maryknoll, On August 31, 1917, Sister Mary Thomas did domestic work. She, like Sister Mary Aloysius, was one of our pioneers – she received the Habit of our Congregation on March 25, 1918.
In August of 1919, Sister Mary Thomas, as a novice, was assigned to the Venard, where she remained until July of 1922. Sister was among the first group to be Professed, on February 15, 1921. In September, 1922, Sister Mary Thomas was assigned to China, where she was one of the pioneers of our apostolate for the orphans in Yeungkong, and remained there until 1924, when she was assigned to the Motherhouse. Sister remained at the Motherhouse until 1929, when she went to Los Altos. In 1936, Sister Mary Thomas again returned to the Motherhouse, in charge of the sewing room, until she was transferred to Bethany, September 1945.
Sister Mary Thomas' years at Bethany and perhaps all of the years of her religious life, were devoted to praying for our priests and missioners. Each visit with Sister gave us the assurance that she prayed daily for Mother and the Council, and for our priests and Sisters everywhere. That was her apostolate in her illness and she labored faithfully until the end.
Sister Mary Thomas' Requiem Mass will be sung in our Bethany Chapel on Friday morning at 11:00 o'clock. She will be buried in our cemetery 'neath the Cloister Hill.
May we remind you of the suffrages due our departed Sister, according to Chapter XVII of our Constitutions, that by these we will help guide her precious soul to the Throne of Eternal glory.