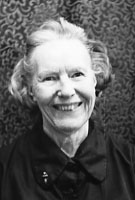 Sister Mary Xaveria Wittman, MM
Born: June 1, 1902
Entered: May 24, 1926
Died: August 25, 1993
Sister Mary Xaveria Wittman died the way she had lived, quietly. On August 25th, at 1:45 p.m., Sister Xaveria went home to God as she slept. She specifically asked not to be taken to the hospital and, on consultation, the doctor was in agreement. Sister was made comfortable and moved closer to the nurses' station for close observation. Her transition was peaceful and quiet, the way she had lived. Sister Xaveria was 91 years old.
Edna Wittman was born on June 1, 1902 and grew up in the Diocese of Erie, Pennsylvania. Sister's parents, two sisters and two brothers have all preceded her.
When Xaveria entered Maryknoll in 1926, she had completed a Teachers' Certificate from Pennsylvania State Normal School. Later, Xaveria completed more studies and received a Bachelor of Education Degree from the University of Hawaii in 1939.
Sister Xaveria took her First Vows at Maryknoll on October 28, 1928. Sister was assigned to Hong Kong in 1929 and made her Final Vows there in 1931. Sister taught in our elementary school in Kowloon. In 1935, Sister Xaveria went to Hawaii where she engaged in elementary school teaching in Punahou and Maui until 1973, a career of 48 years of active involvement in educational ministry.
Sister then spent eleven years in Hawaii retired from professional teaching and more active in Arts and Crafts, talents she had also used in her early days at Maryknoll and in Hong Kong. During this period Xaveria increased the time spent with the sick and various thoughtful kindnesses to others. Because Xaveria was such a private person most knew her best through what she did for others.
Sister Xaveria celebrated her Golden Jubilee in Honolulu in 1976. She came to the Center in 1984 to retire.
Sister Xaveria loved to work with her hands and was skilled in knitting, crocheting and tatting. She loved to make things, especially gifts for our Sisters. The results of her skills were creations of beauty as can be attested to by the recipients of her quilts and afghans. From Sister's quiet reflections came intricate, vibrant and harmonious colors of rosebuds and daises woven into her work to rival the flowers of Hawaii. Besides skillful work, Xaveria was willing to teach others the skills. About three years ago when she was no longer able to do her art work, she asked someone to sort through her tools so others might be able to use them.
We rejoice in Sister Xaveria's long life with us in Maryknoll, her faithfulness in mission, her contributions to education, her art talent and her example of quiet fidelity. We extend our sympathy and prayers to Xaveria's sister and her nieces and nephews.
We thank Maryknoll Father Jim Gehrlich for joining us in the celebration of our Resurrection Liturgy. We ask Sister Xaveria to remember all of us from her new home that we also may exemplify a life of quiet peace and devotion to God.