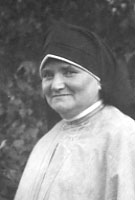 Sister Mary Zita McDermott, MM
Born: October 13, 1880
Entered: April 5, 1929
Died: April 27, 1954
Sister Mary Zita McDermott died at the Motherhouse on April 27, 1954 after having been ill for about a month. She was called home on the Feast of her Patroness and was buried on April 29.
Elizabeth McDermott was born in Coolmine, Ireland on October 13, 1880 to James McDermott, a farmer, and Mary Lang McDermott. She had two brothers and two sisters. She attended Geevagh grammar school for 8 years.
Elizabeth entered Maryknoll from the Diocese of Springfield, Massachusetts, on April 5, 1929 at the age of 49, and was professed in 1931 taking the name Sister Mary Zita, who was the patron saint of domestic workers. She was a cook prior to entering Maryknoll and continued in the Motherhouse bakery and at the Fathers and Brothers Seminary kitchen after her profession. She did cooking also at St. Anthony's in the Bronx, New York, but returned to either the Motherhouse or Bethany Nursing home, putting her baking and cooking skills to good use.
Sister Mary Zita gave great honor to her saintly patron in Heaven through her spiritual accomplishments and through her occupation. She was proud of the name that she bore. She was a baker too. Sr. Zita would ask one who would give a life of humble service, of self forgetfulness, of devotion to the Blessed Sacrament and be prepared to obey orders and directives humbly. You would have to be prepared to accept the most obscure assignment cheerfully and to drink the bitter cup of disappointment and keep your sense of humor.
Sister Zita has not died in vain, she died to prove the truth of one of the most important and fundamental principles of the missionary vocation, that you don't have to go the foreign missions to be missioners, you have to live a life of heroic love and self sacrifice. And if you have this virtue you don't even have to leave the few acres of this earth that is called by the lovely name of Maryknoll.