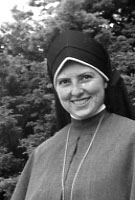 Sister Mercedes Maria Martin, MM
Born: July 24, 1915
Entered: December 8, 1938
Died: March 20, 2003
Sister Mercedes, age eighty-seven, died unexpectedly on Thursday night, March 20, 2003, at Santa Teresita Hospital in Duarte, California.
Eleanor Mercedes Martin was born July 24, 1915 in Alameda, California to Edward Thomas Martin and Mercedes Gertrude Mendizabal. She had three younger sisters, Miriam, Mercedes and Margaret Virginia. The family moved to Long Beach, California where Eleanor attended St. Matthew Grammar School from 1921-1928 and St. Anthony High School from 1928-1932. Due to the many kindnesses of her father toward the Immaculate Heart Sisters, who taught in both schools, they were able to procure for her a scholarship to the Immaculate Heart College in Hollywood, California which she attended from 1932-1936 earning a Bachelor of Arts degree in Education.
After graduation Eleanor taught for two years in a small country school in Nipomo, California but found herself quite lonely being away from family and friends. One evening on a quiet country walk in Nipomo, she seemed to hear the words, "If I were in China as a Maryknoll Sister I would not be lonely." Following her instinct, in June 1938, she visited Sister Martina Bridgeman, M.M. in Los Angeles to express her desire to become a Maryknoll Sister. Sister Martina encouraged her to apply at once. However, Eleanor felt this would be hard on the family so waited until December to apply and was accepted.
On December 8, 1938 she entered the Maryknoll Sisters Congregation at Maryknoll, New York. When she received the habit in June 1939 she was given the name of Sister Mercedes Maria which she retained for all of her religious life. For two and a half years of novitiate, Sister worked in the famous candy kitchen whose earnings helped to support the novitiate.
Sister Mercedes made First Vows on June 30, 1941 at Maryknoll, New York and was then sent to work in the kitchen of the Maryknoll Junior Seminary, known as the Venard, located in Clarks Summit, Pennsylvania. It was there, in July 1941, that Mother Mary Joseph Rogers announced her assignment to Hawaii. After a brief visit with her family she sailed off with a group of Sisters for Hawaii on the steamship Malolo. Final Vows were made on June 30, 1944 in Wailuku, Maui. It was in Hawaii, first on the island of Maui and then fourteen years later on the island of Oahu, that she remained in mission to her beloved Hawaiians for over fifty years.
While in Wailuku, Maui, Sister Mercedes taught at St. Anthony High School and was Senior Class adviser most of that time. Our Maryknoll Sister Isabel Rabbon expresses well Sister's interest, love and concern for her students. I quote, "I myself knew Sister Mercedes as our senior class adviser at St. Anthony High School in Wailuku, Maui. I have always loved, respected and appreciated her as a teacher and then as a Sister in Maryknoll. I remember when she gave us a very thorough and enjoyable course in the Sacrament of Marriage, making us look forward to our own marriages."
Her love of books and research gave her great interest in library science. Consequently, during the years of 1961-1962 she attended Catholic University of America in Washington, DC where she obtained a Master of Science degree in Library Science with a Minor in English. During these years her gifts and talents were recognized and, in 1962, she became the Bibliography Editor of The New Catholic Encyclopedia where her work was highly praised. Despite numerous requests from the Editorial Operations Director for her to remain a longer period of time, she returned to mission on Oahu, in Honolulu, at Maryknoll High School in 1965.
While in Hawaii Sister Mercedes' interests were varied and many. She was secretary of the Hawaii Association of School Librarians, a member of Beta Phi Mu, the honorary Society of Library School Graduates, consultant to various departmental resource centers, a member of the Academic Council of the High School as well as a member of Makiki Park Advisory Committee for the development of a neighborhood park.
Her last tremendous contribution to the Hawaiian people before leaving Hawaii was setting up the library for The Institute for Religion and Social Change at Chaminade University of Honolulu. Over a period of three years she catalogued more than one thousand books according to the Library of Congress system. Her dedicated work increased the value of this collection and made it readily available to The Institute and to Chaminade University of Honolulu. As a result, in 1994, the Library was dedicated to her and bears the name of the Martin Library. What a beautiful tribute to Sister Mercedes.
December 15, 1994 brought a close to Sister's time in Hawaii when she was assigned to Monrovia, California where she quickly involved herself with private tutoring and was an active member of "Friends of the Library" for the past nine years as well as being the Rosary House Librarian for our Sisters. During these years she diligently worked on the continuance of the history of the Maryknoll Sisters in Monrovia. Once again, the work of a very dedicated person.
This morning we bid a final farewell to an excellent educator, a superb librarian, but most of all a good friend. We extend our deepest and heartfelt sympathy to Sister's family members and friends gathered here today with assurance of our prayers at this difficult time.
We are grateful to our Maryknoll brother, Fr. Richard Ouellette, who will preside at this Liturgy of Christian Burial as we fondly remember Sister Mercedes Maria.