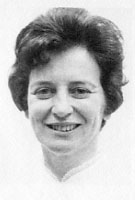 Sister Michel Seyffert, MM
Born: September 23, 1923
Entered: October 5, 1946
Died: May 1, 1981
"Gentle woman, quiet light — Morning star, so strong and bright… Blessed are they with peaceful spirits, Blessed are they with gentle hearts…."(From: HAIL MARY:GENTLE WOMAN-Rev. Carey Landry)
These sentiments from the beautiful hymn to Our Blessed Mother, "Gentle Woman", seem very appropriate this morning as we gather together to celebrate this Eucharistic Liturgy of the Resurrection for our dear Sister Michel Seyffert. Gentleness, strength, peace, womanliness, are the thoughts that come readily to mind when we think of this special woman of Maryknoll whom God has called to Himself in this springtime of beauty and promise. Michel died on the first day of Our Lady's month of May after a period of grave illness and pain suffered during the weeks of Lent, Holy Week and Eastertide. It seems fitting, somehow, that her birth into the new Life of the Resurrection comes at a time when all around us creation is witnessing to that promise. It would have been characteristic of Michel's thoughtfulness of others and appreciation of beauty that she left us in the midst of these consolations.
Marion Seyffert was born on September 23, 1923 in Boston, Mass., the second daughter of Anastasia and Rudolf Seyffert. She grew up with her sister and three brothers in Boston, where she attended Somerville High School, and later did office work for a few years before entering Maryknoll in October, 1946. At Reception, Marion received her religious name of "Marie Michel Therese". Michel, as she was afterwards always known to us, graduated from Maryknoll Teacher College and, following her final profession of vows on the Feast of St. Therese, October 3, 1952, was assigned.to what was then our Middle America Region. Michel taught in primary and secondary schools in Merida, Yucatan (Mexico), and in Puerto Armuelles, Panama, where she served as principal of St. Anthony's High School until 1968.
Michel's talent and gifts for leadership were early recognized in the Community and for over ten years she served, at various times, both as appointed Superior and as an elected member of the Regional Governing Board. In these roles, Michel was distinguished for her quiet, nondirective style of leadership, which was effective in drawing out the gifts and abilities of others and encouraging participation. Her ready sense of appreciation of each person, and her lively graciousness of manner often instilled in her Sisters and friends a desire to be more and to do more. Michel is remembered as one who was fair and just; respective and sensitive in a way that brought out the best in others. She had a clarity of vision and a sense for putting things in proper perspective; avoided getting bogged down in unimportant details; and had a nice ability to lend a certain lightness and grace to the most difficult situations. This spirit and attitude enabled her throughout her life in Maryknoll and in mission to take on whatever tasks were asked of her,
In 1973, Michel was asked to become Director of our Maryknoll Sisters Orientation Program here at The Center. She served in this capacity until 1976 and, once again, her many gifts–especially her ability to inspire confidence and trust–were much in evidence. One of the Sisters said of Michel (and many of us could say the same), that "she seemed to have a special gift for me in her ability to help me through difficult times; but then I realized that she had this gift for everyone!". These were years of transition and significant change at Maryknoll, and Michel and members of the Orientation Team made an important contribution in giving new direction to the Formation Program.
Before her service at The Center, Michel was engaged in Pastoral Ministry in both El Salvador and Guatemala. In 1976, when she returned to this ministry in Guatemala City, she seemed to have a new sense of urgency for mission, realizing, perhaps, that the rapidly changing social and political situations in that country were leading to a time of suffering and hardship for the people with whom she shared her life and work.
Although Michel's health was never robust, her characteristic womanliness and dignity, enabled her to exhibit well-being and strength. Her last illness came rather unexpectedly while Michel was still in Guatemala City. With her customary strong determination and will power, at first it seemed that she would overcome this new setback. However, she died after three weeks of intense suffering in the New York Hospital. In faith we know that she continues committed to the peoples of Central America, interceding for them in their time of terrible suffering and struggle for new life and hope,
Michel was greatly strengthened and comforted as were we, her Maryknoll family, by the constant presence and loving concern of the Seyffert Family with whom she always maintained close bonds throughout her missionary life, and who were with her when she died, In these bonds we are able to rejoice today in our memories of Michel and in the eternal new Life she now enjoys. She was a beautiful example to us of the ideals expressed by our beloved Foundress, Mother Mary Joseph:
"I would have her distinguished by Christ-like charity, selflessness…gracious courtesy, an adaptable disposition…and the saving grace of a sense of humor,"
We were happy to welcome the family and friends of Sister Michel, who came to Maryknoll to participate in our Eucharistic Liturgy of thanksgiving to God for Michel's life among us and to celebrate her newness of Life with the Father, Our loving and prayerful sympathy go out to all, and very especially to her sister, and brothers.
The Mass of the Resurrection was celebrated by Maryknoll Fathers Charles T. Huegelmeyer, MM, principal Celebrant, assisted by Fathers William S. McDonald, and John J. Corcoran, MM.