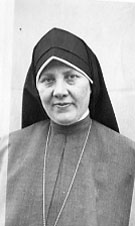 Sister Miriam Agnes Tibesar, MM
Born: June 5, 1896
Entered: December 7, 1931
Died: November 28, 1986
This morning we gather together to celebrate the Mass of the Resurrection for our Sister Miriam Agnes Tibesar. We are happy that her own priest-brother, Father Antonine Tibesar, O.F.M., of Washington, D.C., can be with us as principal celebrant. Sister Miriam Agnes died peacefully at 05:55 in the morning, Friday November 28, 1986 in our Nursing Home. It was the day after Thanksgiving.
Agnes Tibesar was born on June 5, 1896 in Quincy, Illinois, to Joseph Nicholas and Maria Christina Blomar Tibesar. She was one of eight children: three girls and five boys. Theirs was a close, loving and very religious family, with both parents being devout Catholics. It was for them a great blessing that four sons became priests: one Maryknoller, two Franciscans and one Benedictine; and two daughters chose to join the Maryknoll Sisters: Agnes and Octavia.
After completing elementary grades at St. Francis Parochial School, Agnes took a one-year Commercial Course at Notre Dame Business School in Quincy, Illinois. Being the second oldest child, Agnes – early in her life, took on the responsibility of helping to support the family. She had already worked many years with different companies as bookkeeper and office clerk when, at the age of thirty—five, she wrote to Mother Mary Joseph in April, 1931. She thought that at her age it might be "too late to enter the Convent" and asked if it would be better for her to continue helping her family. Mother Mary Joseph recognized, even then, the generosity and selflessness that would characterize Agnes throughout her 55 years as a Maryknoll Sister. Agnes remained true to the words she wrote before her First Profession of Vows: "My belief is that no matter where I am or what kind of work I may be asked to do, I will always be happy to do it." She joined Maryknoll on December 7, 1931 and was professed on June 30, 1934. She made her Final Profession three years later. At her formal Reception she received her religious name: Sister Miriam Agnes.
After Profession Sister worked in the Motherhouse kitchen until 1936 when her dream of going to the foreign missions came true. She was among the pioneering group of Sisters sent to Shanghai, China to work at Mercy Hospital. She remained there two years and in November, 1938 was assigned to the Philippines, where she worked both in St. Paul's Hospital in Manila and at Maryknoll Normal School in Malabon.
When world War II broke out in 1942, Sister Miriam Agnes was among those imprisoned in war internment camps. After release from Los Banos in 1945, Sister returned to the Motherhouse and in July of that year she was assigned to Mountain View, California where she was in charge of the Seminary Kitchen until 1954; and again from 1957 to 1963. Her talents as a cook were equally appreciated at Monrovia, California and in Chicago, Illinois where she was assigned during the intervening years. In all these places, Sister Miriam Agnes' many homey talents were put to good use – whether in concocting feast day deserts, playing the piano, crocheting a fancy centerpiece, or typing reports in the office. She was generous always in the use of her gifts of heart and hand.
In 1973, Sister Miriam Agnes returned to the Center and was assigned to work in the Archives of the Congregation. Each day found her happily busy at her typewriter. She was overheard one day to remark, "It's so good when you wake up in the morning to know that you have some place to go."  To know her was to love her for the very dear person that she was – uncomplaining, charitable, grateful for any favor, no matter how small. For her, a sightseeing drive on a Sunday afternoon was a special treat, and even more so when it ended with a hot fudge sundae! We are certain that now Sister Miriam Agnes enjoys not only special treats but "the hundredfold" and fullness of life promised to God's faithful ones.
We offer our sympathy to Sister's family and friends and very especially to her brothers, Father Norbert, O.S.B. and Father Seraphin, O.E.M., who, while unable to come, are very much with us in spirit this morning as together with Father Antonine Tibesar, our principal celebrant, and Father John Gubane of South Africa, we celebrate this Eucharistic Liturgy of remembrance and thanksgiving.