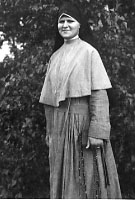 Sister Miriam Bernadette Stremus, MM
Born: April 23, 1913
Entered: December 7, 1931
Died: February 27, 1997
We gather here this morning to celebrate the Liturgy of the Resurrection for our beloved Sister Miriam Bernadette Stremus, whose long and painful struggle of the past several weeks ended about 6:20 the morning of February 27. Sister went quietly to her eternal reward.
Anna Stremus was born April 23, 1913, in Wilkes Barre, Pennsylvania to Matilda Stymer and William Stremus. She was one of six children, all of whom are now deceased. She has one living niece, and two sisters-in-law.
Sister took her first vows June 30, 1934 and final vows in 1937. From 1935 to 1943 she was assigned to the Venard. She returned to New York in 1943. Sister's longtime friend, Sister Esther Marie Touchette, recalls the early recognition that Miriam Bernadette had a real flair for fine cooking. Mother Mary Columba (then Sister Columba) noted Miriam Bernadette's unusual skills, and Mother Mary Joseph agreed this was a talent to encourage. So Miriam Bernadette attended the New York Institute of Dietetics, receiving her certificate the following year. After a year in Los Altos, Sister was assigned in 1945 to Hawaii, where she spent the next fourteen years serving as housekeeper in Maui and Oahu.
Sister Mercedes Maria remembers those years, "On Maui, Miriam Bernadette served as cook-chef, really, for a large convent community. Her feast day meals would have put the Royal Hawaiian Hotel to shame." Later, Miriam Bernadette became a member of Bishop Sweeney's housekeeping staff at his home in Diamond Head. She also served on the staff at St. Augustine's in Waikiki and Punahou Convent at Sacred Heart Parish.
In 1963 Sister Miriam Bernadette returned to the mainland. After a three-year stint at Bethany, where she was in charge of diets, Sister was assigned to California–San Francisco promotion house for a short time, then Guadalupe, where she taught catechetics and worked with needy families in the area. In 1977, she was assigned to the then Senior Region in Monrovia, where she remained ever since.
Sister Miriam Bernadette was an outgoing person, making friends easily with the many lay people she met in the course of her work. At home, though Sister lived easily as part of the community, she was reserved, shielding details of her personal life and her deep spirituality. But something can be gleaned from recalling her daily routine, which included wending her way to the chapel, often before dawn, where she would be lost in prayer until Mass started several hours later. She had great devotion to the Sacred Heart and to our Blessed Mother.
We here in Monrovia are all aware of Sister's artistic ability as displayed for us daily in the beautiful flower arrangements in St. Joseph's foyer as well as in so many other areas that have brought pleasure both to us and to the many guests who have passed through. We are aware too of her great generosity in sharing her culinary arts at our annual Christmas gathering in St. Joseph's residence. The beautiful display of the Christmas packages, on which she spent many hours, showed the joy and love that she put into doing this for us year after year. It brought joy to us, too…
We are fortunate this morning in having a Maryknoller here with us to preside at the Liturgy-Father Richard Fries from the Los Angeles house. We welcome him and friends of Sister Miriam Bernadette present with us this morning. We give thanks for the missionary life of Sister Miriam Bernadette and these twenty years she spent in Monrovia as she shared her special gifts and talents with us in community.