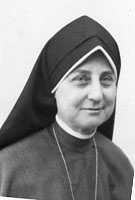 Sister Miriam Elizabeth Schulz, MM
Born: December 25, 1904
Entered: June 5, 1934
Died: July 27, 1972
On Thursday, July 27, Sister Miriam Elizabeth Schulz joined the members of our Maryknoll family who have been called home to God. The news of Sister's death will come as a surprise to all of you, as it did to us here at the Center.
Sister Miriam Elizabeth (Elizabeth Teresa Schulz) was born in New York City on December 25, 1904 and entered Maryknoll on June 5, 1934, a year after her brother, Father William Schulz, M.M. (deceased) left for his assignment in China. Sister had worked as a clerk at St. Luke's Hospital in New York for nine years prior to entrance and continued in this work after her profession, first for the Maryknoll Fathers, then in Hawaii, and since 1961 here at the Center in the Sponsor Office and in the Mission Research Library.
Sister worked for, eighteen years in Hawaii at the Maui Children's Home and at Maryknoll School in Honolulu. Her letters written during this period reveal a person who was very interested in the Sisters and children with whom she lived and worked. Her words show that she was very much aware and concerned for their physical well-being and at the same time very appreciative of anything that was done for her. Her recounting of homey incidents reveal a delicate, kindly sense of humor. Sisters who knew her well remarked that they had never heard sarcasm from her nor an unkind remark.
Sister was very much aware that the pressures flowing not only from her position as school clerk but also from her determination to give her self completely to anything she was responsible for taxed her emotional capacities. She was very open about this with her superiors and tried valiantly to cope with these tensions, but nervous tension was to be the cross she was to bear.
In recent years Sister Miriam Elizabeth found the changes in the Church and in our Maryknoll community life disturbing and difficult to understand. Yet she did not hesitate to be supportive of a Sister whom others were criticizing by openly stating that she had lived with her a number of years and would always hold her in high esteem. "None of us is perfect, and I know that she is doing what she thinks is best for the Sisters in her care." Not understanding, yet she was loyal to those who felt that change was necessary.
Father Francis Winslow, M.M., a long-time family friend, was the main celebrant at the Mass of the Resurrection on Saturday, July 29. Sister's three brothers and her sister, plus a large group of nieces and nephews were able to join us for the celebration. Her sister's remark as she said goodbye to us was: "Sisters, I am leaving here much happier than when I came on Friday. Everything was so beautiful and the Sisters were so kind to all of us that I can't grieve for Sister."
The prayer at the conclusion of the Office of the Resurrection on Friday night very appropriately summed up the occasion: "We are looking for our Savior, Our Lord Jesus Christ. He will take our poor bodies and make them like His glorified body. We pray especially for our Sister Miriam Elizabeth. Her gentleness and patient suffering were an example to all of us. May she live forever in your light and peace, O Lord. May we have the courage and fidelity to follow as she did the way you lead us. May we live holy in the world awaiting with peaceful hope the glorious appearance of our God. Come, Lord Jesus!"