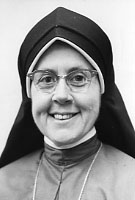 Sister Miriam Regis Boudreau, MM
Born: February 27, 1911
Entered: June 8, 1935
Died: July 22, 2010
Our beloved Sister Miriam Regis Boudreau went peacefully home to her God on July 22, 2010 in our Maryknoll Residential Care IV.  She was 99 years old and had been a Maryknoll Sister for 75 years.
Frances Cecilia Boudreau was born in St. Peter's Nova Scotia, Canada on February 27, 1911 to Suzanne (Borque) and Maurice E. Boudreau.   She had three Sisters and one brother.  Her parents as well as her sisters have all predeceased her.
Frances Cecilia had only a few years of elementary school, as education was not considered important for girls to have. Although her family moved to Wellesley, MA, they also spent some years in Cape Breton, Nova Scotia.  Frances worked as a cook and housekeeper for seven years.  She entered Maryknoll on June 8, 1935 at Ossining, NY.  She received her religious name Sister Miriam Regis, made her First Vows on January 6, 1938 at Maryknoll and her Final Vows on the same date in 1941 at Monrovia, CA
Sister Miriam Regis was assigned to California in 1938.  She first served in the mission of San Juan Bautista.  She was then assigned to the TB Sanatorium in Monrovia run by the Maryknoll Sisters where she served in the laundry for ten years. On her free time she took care of many of the sick.  She loved the patients at Monrovia and helped them in any way she could.  Some still write to her regularly thanking her for her kindness. She loved to work and always said she was the happiest when she was working.
In 1949 she moved to the Maryknoll Society Minor Seminary in Mountain View, CA where she worked in the kitchen.  Next she was assigned in 1952  to the mission of San Juan Capistrano, where the Maryknoll Sisters ran a school, again serving in the kitchen for eight years.  Then followed a string of short term assignments to San Francisco, Mountain View;  a year at St. Ann's convent in Honolulu, HI, and another year at our Novitiate in Valley Park, MO.  In 1970 Sister was assigned to our Bethany infirmary in Ossining, NY until 1975 where she used her expertise in the laundry and the kitchen as well as making friends and helping others.
Sister Miriam Regis returned to her family home in Nova Scotia in 1975 to take advantage of its beautiful climate.  Sister then began her retirement years working in Senior Citizens' Apartments at Cayuga Plaza in Cohoes, NY until 1985.  She then joined a Maryknoll Sisters' retirement community in Terryville, CT until 1990.  She was assigned to the Center House in 1990 and joined the Eden Community Residential Care unit in 1998.  During these years Sister's Prayer Ministry was: Guatemala, Donor Services office, and Pope Benedict XVI.
Sometime before 1991 she wrote:  "Life on a farm can be beautiful for it brings you close to nature and when you live close to nature, you are living close to all the beauty of God's Creation, for God is truly present in all His Creation – the mighty oceans, lakes, rivers, forests, mountains and valleys, to name a few.
There's not a plant or flower below,
but makes Your glories known,
and every where that man can be,
You, God, are present there."
Sister had many friends in California, New York State, Ossining and Connecticut – places where she worked.    She kept up correspondence with many of them. Sister also reached out to our Candidates and kept in touch with them after First Profession by letter.  They always visited with her when they came back to the Center.
She lived simply, giving away anything she did not need.  Sister used her personal allowance to have Masses said for all who helped her so much.  Her rosary was her constant companion and she prayed for the sick and for those who helped her for which she was very grateful.
Sister loved to sing and often had a song on her lips and in her heart.  She often sang her Canadian National Anthem when the nurses aids encouraged her.  She loved her homeland and often wished she could return just one more time.
We extend our condolences to Sister Miriam Regis' sister  and her niece who left this morning to return to Nova Scotia, and other family members and dear friends.
We are happy to have with us today our Maryknoll brother Father Thomas McDonnell, a long time friend of Sister Miriam Regis, who will preside at our Liturgy of Christian Burial.