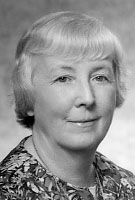 Sister Miriam Rooney, MM
Born: December 8, 1915
Entered: September 6, 1944
Died: May 11, 1994
At 4:15 a.m. the morning of May 11, 1994, Sister Miriam Rooney died in her sleep in our Skilled Nursing Facility. Miriam was seriously ill for more than a year and because of increasing health needs Miriam was admitted to the Skilled Nursing Facility in January of this year.
Also this year, Miriam celebrated her Golden Jubilee of entrance into Maryknoll. The center celebration was on April 24th, but Miriam was too ill to attend the liturgy or dinner. However, her family members were here to celebrate with Miriam, took part in the liturgy and dinner, and spent the rest of the time with Miriam in Residential Care. In her room Miriam renewed her vows in the presence of Fr. Leo Shea, Sr. Claudette LaVerdiere and family members, all of whom extended their hands in a blessing to Miriam and received her blessing in return.
Miriam had one brother and four sisters and grew up with them in Brooklyn with their mother, Josephine (Doody) Rooney and father, Asa. Miriam kept in close contact with her family members, including a niece, nephews and cousins. Miriam's niece visited her frequently.
Sister Miriam Rooney was born on December 8, 1915 in Brooklyn and was named Miriam Josephine Rooney. She graduated from Girls Commercial High School in Brooklyn in 1937 and before entering Maryknoll in 1944, studied business for a year, worked as an auditing clerk, and volunteered at St. Rose Cancer Hospital where she maintained contacts over the years. Miriam made her First Profession at Maryknoll on March 7, 1947 and Final Vows on the same date in 1951.
Miriam spent her whole Maryknoll life at our center. In her early days she worked at the Field Afar mail desk, later in Mother Mary Columba's office, and then was Local Bursar until the mid-fifties. Miriam was a talented seamstress and did skilled upholstery work, especially at Watch Hill, and which gave an attractive setting that all have enjoyed for many years. Miriam was an excellent cook and in general, enjoyed any kind of domestic work.
For health reasons, Sister Miriam's last two years were difficult experiences for her. All of Miriam's family members, the Health Services' staff and so many of our Sisters at the center were outstanding in their care and accompaniment of Miriam. In recent times Sister Miriam was appreciative of care and kindness received and frequently expressed appreciation.
In the past few days, Sisters kept a round-the-clock vigil with Miriam. The evening of May 9th, Miriam was anointed again in the presence of a large group of Sisters, many of whom also gathered the evening of the 10th for prayer and hymns. Sister Elizabeth O'Brien was with Miriam when she breathed her last. So many Sisters were generous with their time and outreach to accompany Miriam these last weeks.
We welcome all of Miriam's family and friends. We are grateful to our Maryknoll brother, Father Edward Manning, who celebrates the Eucharist with us, as we raise up one more Maryknoll name, Sister Miriam Rooney, during this Easter-Paschal Season.