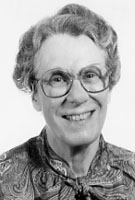 Sister Miriam Thomas Thornton, MM
Born: March 31, 1910
Entered: October 15, 1929
Died: May 7, 2006
Sister Miriam Thomas Thornton died peacefully at 6:20 am. on Sunday, May 7, 2006, in Maryknoll Residential Care IV. Sister Jeanne Therese Oshrin, her good friend of many years, was with her. Sister's niece, Sister Kathy Thornton, RSM, had arrived late the night before and visited with her aunt, who knew she was there. In the 76 years that Sister Miriam Thomas was a Maryknoll Sister she was known to be a private and reserved person, yet she leaves a legacy significant in its public impact and acclaim.
Edna Marie Thornton was born in Marshalltown, Iowa, on March 31, 1910. She was the eldest of six children of Dr. and Mrs. Thomas F. Thornton. She was preceded in death by three of her brothers, Judge T. Eugene Thornton, Monsignor John Thornton, and Attorney Joseph Thornton. Surviving her are a brother, and a sister, who we are pleased to have with us today, as well as several nephews and nieces.
Edna Marie graduated from Immaculate Conception Academy in Davenport, IA, in 1928 and studied one year at Clark College in Dubuque, IA, prior to entering Maryknoll on October 15, 1929. She made First Vows at Maryknoll, NY, on January 6, 1932, receiving the name of Sr. Miriam Thomas. She then attended Mt. St. Vincent College in New York, earning a BA in English in 1934, after which she was assigned to the Philippines. It was there, in Malabon, where she made her Final Vows on January 6, 1935.
Throughout her mission life, Sister Miriam Thomas distinguished herself in the field of education, having prepared herself formally and informally all her professional life. She was studying for a doctorate when World War II reached the Philippines and she and the other Sisters were interned in the prison camp in Los Banos. Sister Miriam Thomas brought along her books and painting materials, and despite the hardships and the weakness she experienced from the starvation diet in the camp, Sister was able to finish writing her doctoral dissertation. She even designed a holy card for others in the camp. Shortly after liberation, and still in poor health from life in the camp, she was able to defend her dissertation and received the highest grade "Meritissimus" from the University of Santo Tomas, Manila in 1945. During assignments at Maryknoll, NY, in the late 1960's, she did post-doctoral studies in Administration at Columbia University in New York City, and Pastoral Counseling studies at lona College, New Rochelle, NY.
For more than 50 years, Sister Miriam Thomas' mission history ran parallel to that of the Maryknoll College in Diliman, Quezon City. In 1946, she was appointed both President of the College and Regional Superior of the Maryknoll Sisters in the Philippines. By 1949 plans had begun to move the college to a new campus with its own buildings. Sister Miriam Thomas was involved in acquiring appropriate land, raising funds and overseeing construction of the college. Meanwhile, the Maryknoll Sisters' apostolates in the Philippines were also expanding into the provinces and the Caroline Islands. Sister Miriam Thomas handled both responsibilities exceedingly well. She was an able administrator of the multiple college activities throughout this intense period, even while taking time to travel and visit the many Maryknoll Sisters' missions in the Region. Her kind and tender concern for the Sisters under her care are remembered by many.
In 1958, Sister Miriam Thomas was assigned to Mary Rogers College at Maryknoll, NY, as Dean, and at the end of three years she was named Superior of the Motherhouse. This position she held for six years. Upon completing the latter, Sister was asked where she wanted to serve next. She said that in 1934 she had been assigned to the Philippines, but in 1968 it was her choice to go there. She was sent back to resume the role of President of Maryknoll College with a new, post-Vatican II vision. Sister immediately began to organize a Board of Trustees for the College, composed of lay people and religious, and to phase in lay administration in the various units. The College continued to expand in its buildings and programs, and in 1972 the Board of Trustees governed the institution. However, Sister Miriam Thomas continued preparing the lay administrators for an even greater responsibility.
The Philippine Government issued a memorandum in 1973 on educational institutions, stating that ownership, control of administration, curriculum and enrollment be held by Filipinos. Maryknoll College was ready! The Maryknoll Sisters' immediate response to Vatican Council II in the '60s and Sister Miriam Thomas' exceptional administrative abilities and foresight prepared for the decision made in December 1975 to transfer ownership and control of Maryknoll College, Inc. to a Board of Trustees whose members would be chosen from the local Filipino community. On the Board were a number of alumnae who had been picked and trained by Sister Miriam Thomas. The celebration of Maryknoll College's Golden Jubilee Year in 1976 was highlighted by the investiture of its first lay president, Dr. Paz Adriano. After a total of 18 years as President of Maryknoll College, Sister Miriam Thomas quietly, but happily, withdrew from the position. At that time it was agreed that the name of the College would not be changed immediately. When the change took place ten years later several reasons led to the selection of the name "Miriam College" and one of them was to express gratitude to the person who had devoted herself so much to the school.
Sister Miriam Thomas was called back to Maryknoll, NY in 1977 to assume a new position, Consultant for Retirement Planning in the Maryknoll Sisters Personnel Department. In 1980 she returned to the Philippines and serve as Maryknoll liaison to the College, to the Alumnae Association and to other works of the College. That same year she celebrated her Golden Jubilee as a Maryknoll Sister, and four years later she celebrated 50 years of service in the Philippines. On these and many other occasions Sister Miriam Thomas received countless tributes, citations, honorary doctorates, and other expressions that reflected the high esteem in which she was held. The love and gratitutde of the Filipino people whose lives she touched through her tireless mission efforts were endless. A street on campus was named "Thornton Drive" in her honor. On more than one occasion, talks in her honor began with "Great appreciation of Sr. Miriam Thomas as a religious", and "Mother Mary Joseph's ideal of a Maryknoll Sister". It is fitting that these words are a part of the reading for today's liturgy. Failing health caused Sister to return to Maryknoll, NY. However, Sister Miriam Thomas remained ever a missioner through her prayer ministry for Manchuria.
We extend our deepest sympathy to Sister's family and friends, and we warmly welcome all those who are with us today, including Ms. Carmen Marquez, an alumna of Miriam College who attended Maryknoll Sisters' schools in the Philippines over a period of 17 years. We are happy to have Maryknoll Father David Sullivan, another Philippine missioner, with us to preside at our Liturgy of Christian Burial.