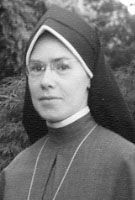 Sister Miriam William Batterton, MM
Born: January 17, 1918
Entered: September 6, 1944
Died: October 22, 1982
"You are the God of my heart:
the God that is my portion forever."
(Psalm 16)
This afternoon our hearts are lovingly united in a spirit of praise and thanksgiving to celebrate the life of our Sister Miriam William Batterton who entered into Eternity on October 22, 1982. Sister died in St. Mary's (Mercy) Hospital, San Francisco, California. The Scriptural passages and Psalms which she, herself, chose for the Office of the Resurrection, reveal the beauty of soul of the "suffering servant" she was; the depth of her commitment to God, and her trust in His faithfulness and love.
Sister's life was a beautiful gift of dedicated service to the mission of Maryknoll and to all with whom she lived and worked. Sister Miriam William was a very quiet person and rarely talked about herself, so that few in the Community were aware of her battle with migraine headaches. She knew all too well that one headache would soon be followed by another, week after week, year after year. In recent months they seemed to be more frequent and one of the few times she did speak about her suffering, she wondered just how much more she could take, since there seemed to be no relief in sight. On one or two occasions she voiced the thought that the end might come quickly as it had to her sister, Sister Raphael Marie (of Maryknoll) about 25 years ago.
This year, 1982, was Renewal time for Sister Miriam William and she had happily made her plans. Prior to leaving for the West Coast, two weeks ago, she had enjoyed a 10-day visit here at Maryknoll with two of her sisters. Together they had toured Washington, D.C., and other historical areas in the vicinity of our nation's capital, as well as places of interest in and around our own Westchester County, including Auriesville, New York and the Shrine of the North American Martyrs. Upon their return, Sister Miriam William reminisced delightedly about all she had seen and learned on the trip, calling it her "United States History Tour". This was an exceptionally happy time for Sister and for all of us as we witnessed her joyful anticipation of Renewal and the reunion it meant with her loving family.
On Sunday morning, October 10th, Sister left Maryknoll with her sisters, Dolores and Flora, for San Francisco where their sister, Marian, was waiting to receive them, and we can imagine their joy that day and in the days following as other family members joined the group at home. On Wednesday morning (October 13th), Sister awoke with a migraine headache. It increasingly became worse and Sister was hospitalized. In spirit with her family and friends we, her Maryknoll Sisters, watched and prayed as we awaited the Father's final ordering of her last days. The silent waiting came to a merciful end on Friday, October 22nd, 1982, with the Father's call, and our Sister's entrance into the fullness of Life in him, her Refuge, in Whom she had trusted.
Margaret Bernice Batterton was born January 17, 1918 in San Francisco, California, into the family of William Henry and Agnes Flora Batterton; the family eventually numbered 6 girls and 2 boys. Margaret entered Maryknoll on September 6, 1944, but at the completion of one year of novitiate, she returned home because of illness. During the year she spent at home her health improved and she was able to return (April 5th, 1947) to complete her novitiate training. At Reception she had received her religious name: "Sister Miriam William." She made her first profession of vows on April 6th, 1949, and pronounced her final vows here at Maryknoll on April 6th, 1952.
Sister Miriam William was an excellent office worker, whose secretarial skills and other abilities were early recognized and employed in General Administration here at the Motherhouse, beginning in Mother Mary Joseph's office; and following Profession (1949) in a full-time assignment with the secretarial staff of Mother Mary Columba's office. In 1955 Sister Miriam William was assigned to Monrovia where again her skills were utilized to the full in discharging the duties of Regional Secretary, and in the organization, correspondence and clerical work involved in the fund-raising drive for the new Hospital being planned at that time. When the Hospital became a reality, she managed the office work of the highly professional operation that is a Hospital facility. Sister remained at Monrovia until 1967 when she received an overseas assignment to the Philippines and served once more as a Regional Secretary. Sister discharged those duties with care and efficiency, but when the climate proved too much for her health and the headaches became more frequent, she returned to the U.S. in September of 1968.
From 1969 onward, Sister Miriam William worked in the Treasury Office of the Maryknoll Fathers, performing her duties there with manifest skill, and dedication over and above what was required of her. She enjoyed her work and her co-workers very much and was very concerned when illness caused her to miss a day in the office. She tried to compensate for such absences by cutting short her lunch time or going early to make sure that the work did not suffer.
As we learn from Sister Miriam William's chosen Psalms and Scripture passages–which were evidently some of her innermost prayers – her heart never ceased to praise and bless the Lord for all His actions in her life. It is in the strength of her spirit that we, too, in our Eucharistic Liturgy this afternoon, give praise "AND BLESS THE LORD, WHO HAS GIVEN AND NOW HAS TAKEN AWAY. BLESSED BE THE NAME OF THE LORD!"
To her family and friends we extend our prayerful sympathy in this sudden sorrow.
The Mass today is being offered by our Maryknoll Fathers, all well-known to Sister Miriam William and some of whom were her co-workers in the Society's Treasury Department: Edward J. Manning, Principal Celebrant; con-celebrating with him, are: Joseph R. Lang, Homilist, Charles T. Huegelmeyer, Norbert J. Rans, Robert E. Sheridan, Francis J. Winslow and Richard B. Callahan. We are also pleased to welcome others of Sister's co-workers and friends of the Treasury Department. We deeply appreciate your presence here this afternoon.
As we pray for Sister Miriam William's peace and happiness in the Lord, let us also remember very especially her family and friends with the promise of continuing prayerful support and concern.